Southwestern Bbq Chicken Salad (Best Chopped Salad!)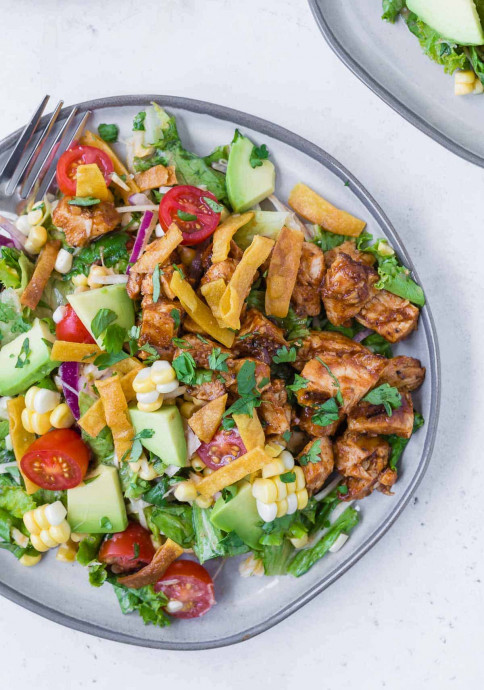 You'll love the homemade barbecue sauce dressing on this southwestern style BBQ chicken salad, with fresh corn kernels and shredded kohlrabi. Isn't this a beautiful chopped salad? Crisp green lettuce, saucy BBQ chicken, freshly cut sweet corn, juicy tomatoes, creamy avocado, and crunchy tortilla strips make a mighty fine summer entrée. This salad's a real crowd pleaser. All the flavors of an outdoor barbecue piled onto one fantastic salad!
This BBQ chicken salad is basically a chopped salad. I've seen similar salads on restaurant menus but it's easy to make your own.
One of the highlights of this salad is the sweet barbecue salad dressing. The recipe is so easy. Start with a few tablespoons of your favorite barbecue sauce, add lime juice, yogurt, brown sugar, and olive oil, and shake it up. I'm thinking you'll want to make a double batch because it's so good. You can use it on another salad tomorrow. Use a crisp green lettuce for this southwestern salad. Leaf lettuce, romaine, or iceberg lettuce would be good choices. A mixture of lettuces would be good, or even add some shredded cabbage to your salad. So pile on the chicken and sweet corn, top the salad with the sweet and tangy barbecue sauce dressing, and enjoy!
Ingredients:
DRESSING (MAKES ½ CUP)
3 tablespoons bottled barbecue sauce
3 tablespoons Greek yogurt
2 tablespoons lime juice
1 tablespoon olive oil
1 tablespoon brown sugar
½ teaspoon salt
¼ ground black pepper
SALAD
4 cups chopped or shredded cooked chicken
⅓ cup BBQ sauce
4 cups torn leaf lettuce
2 cups shredded kohlrabi (2 medium)
2 cups fresh corn kernels (from 3 ears)
¾ cup sliced red onion (about ¼ onion)
2 cups halved grape or cherry tomatoes
1 avocado, sliced
½ cup loosely packed cilantro, roughly chopped
Crispy tortilla strips for garnish