Ranch Potato Salad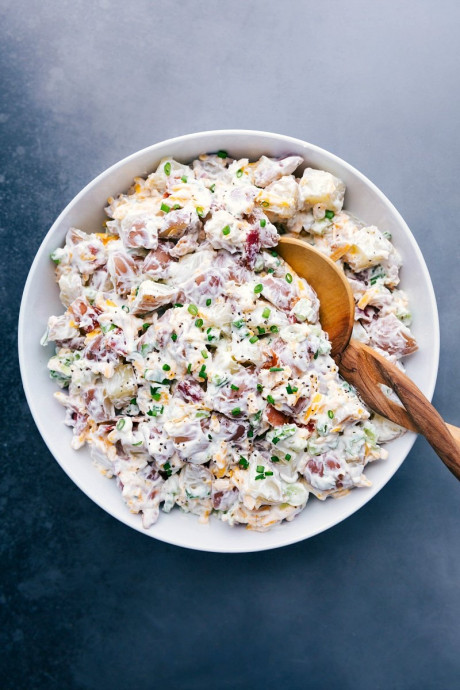 The easiest potato salad recipe ever! Ranch Potato Salad is loaded with tender red potatoes, sharp Cheddar cheese, crispy bacon, and fresh green onions. This salad has a quick two-ingredient ranch and sour cream dressing.
Ranch Potato Salad was one of my dad's signature summer dishes and, to this day, we still make it just about every summer. It's a fun flavor variation on a typical potato salad, reminiscent of a baked potato loaded with lots of sour cream and cheese. The ranch seasoning completely takes the flavor to the next level. This salad is creamy, savory, salty, and cheesy. We're totally obsessed with it and I hope you love it too!
Make in advance. While Ranch Potato Salad isn't a major time drain, it may take longer than you think. The potatoes take a good amount of time to prepare, cook, and cool. After the rest of the salad is put together, it also needs to chill for a bit. As the salad chills, the flavors intensify and meld; everything tastes better cold instead of at room temperature, so don't rush the chilling times.
Ingredients:
2 pounds (915g) red potatoes, cut into 1-inch pieces
2 cups (453g) sour cream (regular or low fat)
1 (1 ounce (28g) package) ranch dressing mix, dry
Freshly cracked pepper, to taste
1 and 1/2 cups (145g) freshly grated sharp cheddar cheese
14-16 slices bacon
1 cup (55g) thinly sliced green onions