Creamy Maple Dressing With Black Pepper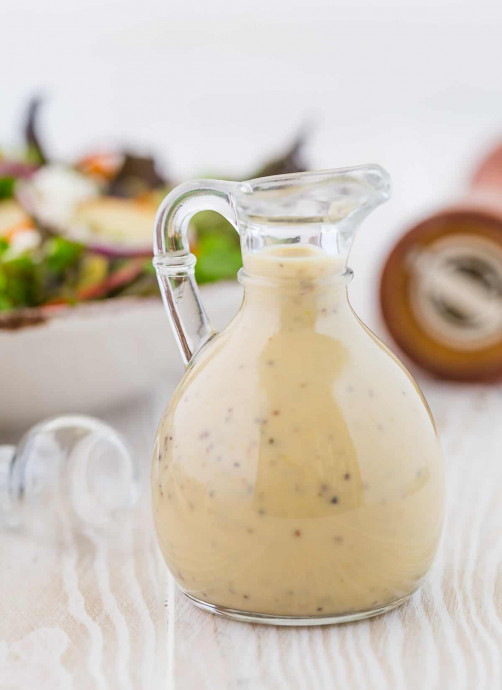 Your salads will glow with homemade creamy maple dressing. You'll want to add it to roasted vegetables and maybe even sandwiches!
This is a luscious dressing, with notes of maple, apple, stone-ground mustard, and freshly cracked black pepper. You'll find that it's perfect for heartier salads of winter greens like spinach, Brussels sprouts, or kale. The creamy dressing highlights the sweet earthiness of roasted vegetables like butternut squash or sweet potatoes. The golden sugar flavor of maple complements the fresh tang of sliced apples, pears, or beets.
Creamy maple dressing gets a little tang of its own from Greek yogurt and apple cider vinegar. With generous amounts of freshly ground black pepper and coarse mustard, it has plenty of peppy flavor. I'm so excited about this dressing. I could slurp it up like soup. And I've made it a little bit healthier for you, too, with only 80 calories per serving. Refrigerate leftover salad dressing in a small glass jar with a tight lid for a week. Shake well before serving.
Ingredients:
1/4 cup plain yogurt, Greek or regular
1/4 cup maple syrup
2 tablespoons mayonnaise
2 tablespoons apple cider vinegar
1 tablespoon coarse stone ground mustard, or 1 teaspoon Dijon mustard
1 teaspoon kosher salt
3/4 teaspoon coarsely ground black pepper