Coconut Chicken Curry Recipe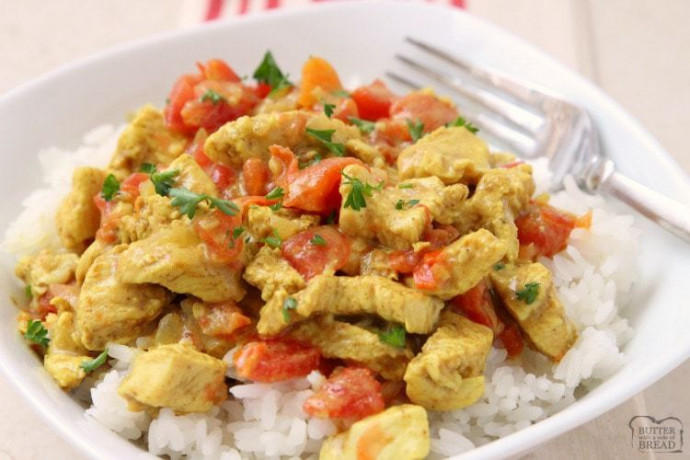 Coconut Chicken Curry recipe perfect for a busy weeknight meal! Simple, flavorful and healthy 20-minute chicken dinner for anyone who loves a mild chicken curry. Our Coconut Curry Chicken recipe uses diced chicken, tomatoes, coconut milk and just enough curry to add flavor, but not make it too spicy. It's the perfect chicken curry recipe for families!
Coconut Curry Chicken is a delicious dinner recipe sponsored by Hunt's Tomatoes. All opinions are 100% mine. This is a mild chicken curry that's easy to make and has great flavors.
This recipe for chicken curry is actually really simple to make! Start by sautéing basic yellow curry powder (found in the spice section of the grocery store) with chopped onions and garlic. Let this mixture sauté for 3-4 minutes on medium heat, to allow the flavors to meld. I tried to skip this step once and just tossed everything in the pot at once and the flavor of the curry wasn't near as amazing! Add the chicken and continue to cook. Then you add the coconut milk, diced tomatoes, and a little bit of sugar to cut down on the acidity and let that mixture simmer for 10 minutes. I like to serve my chicken curry over rice. That's it!
Ingredients:
2 tablespoons vegetable oil
1 ½ tablespoons curry powder
1/2 cup diced sweet onion
2 cloves minced garlic
1 14 ounce can coconut milk
1 14.5 ounce can stewed, diced tomatoes
3 tablespoons sugar
salt and pepper to taste
2-3 boneless, skinless chicken breasts, diced