Spring Salad With Rosé Vinaigrette, Asparagus, And Grapefruit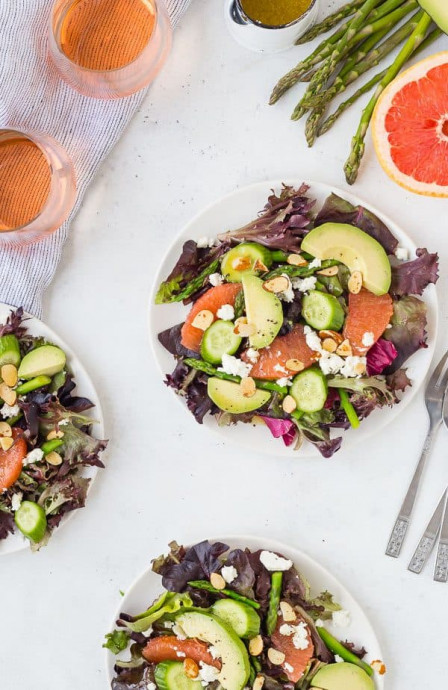 This spring salad is adorned with asparagus, grapefruit, crumbled feta, and creamy avocado. It's topped with a flavorful rosé vinaigrette, making it perfect for brunch or a light summer meal! Along with the crisp springtime flavors, I like to really accent the fun nature of this Rosé Blend with a flavorful vinaigrette made with rosé wine. The rosé wine is a light and bright flavor in the salad dressing and is complemented with red wine vinegar, honey, Dijon mustard, and a good quality olive oil. If you'd rather not use rosé, no alcohol added red wine vinaigrette would be delicious, as well.
Everything works so well together in this salad. The flavorful greens, creamy avocado, tangy cheese, tart grapefruit, springy asparagus, and crunchy almonds. It's everything you want in a salad, topped with a flavorful vinaigrette. This one is a keeper.
This spring salad is the perfect brunch salad, or an ideal partner to grilled salmon or grilled chicken. Both would be great on top of the salad, or alongside it.
Ingredients:
FOR THE DRESSING:
1/4 cup rosé wine (not sparkling)
1/2 cup extra virgin olive oil
2 tablespoons red wine vinegar
1 tablespoon honey
2 teaspoons dijon mustard
1/4 teaspoon kosher salt, more to taste
1/4 teaspoon freshly ground pepper, more to taste
FOR THE SALAD:
1 package (5oz) Earthbound Farm Rosé Blend (may have some extra)
1 pink grapefruit, segmented
1 avocado, sliced
1 1/2 cups asparagus, cut into 1 1/2-inch pieces
1/2 cup feta (see note)
1/2 cup to 1 cup sliced or diced cucumber (I used mini cucumber)
Optional: 2 tablespoons toasted sliced almonds