Cheesy Spinach and Artichoke Chicken Pasta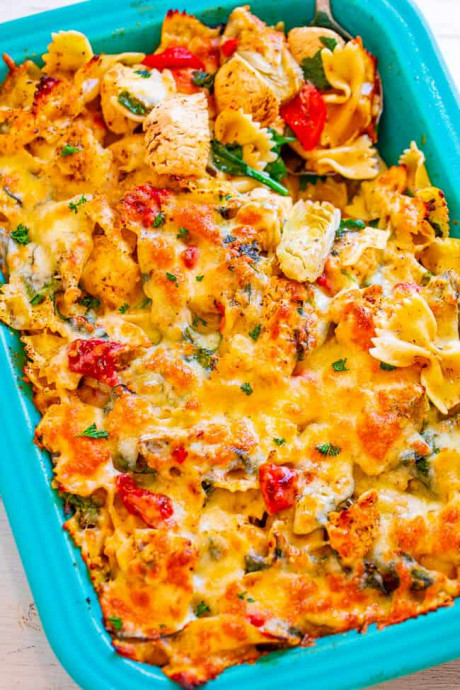 Cheesy spinach and artichoke chicken pasta – imagine spinach and artichoke-flavored pasta spiked with juicy chicken, red peppers, and two types of melted cheese! A family favorite big-batch comfort food pantry recipe that's great for meal prepping!
If you like spinach and artichoke dip, you're going to be a big fan of this easy comfort food that's hearty, satisfying and tastes so darn good.
Even though there are a few different steps, while one thing is going like boiling the pasta, you can be working on the next step like sautéing the chicken, so that the final dish is ready in 30 minutes.
Juicy bites of chicken, spinach, artichokes, and fire-roasted red peppers are nestled within al dente bowtie pasta before being layered with both Monterey Jack and Parmesan cheese.
I loved how the melted cheese draped over the artichokes hearts and those bites reminded me of spinach and artichoke dip, minus any gloppiness because there's no sour cream or mayo in this recipe. This is a great meal prep recipe because not only does it make 12 servings, you can freeze them for later. Having a freezer stash can save dinner on those unforeseen really hectic weeknights.
Ingredients:
1 pound bowtie pasta, cooked according to package directions and drained (rotini, fusilli, penne, ziti, small shells, or a small-shaped pasta may be substituted)
4 tablespoons olive oil, plus more if necessary
1.75 to 2 pounds boneless skinless chicken breast, diced into bite-sized pieces
kosher salt and freshly ground black pepper, to taste
1 tablespoon Italian seasoning, or to taste, plus more if desired
3 to 4 cloves garlic, finely minced or pressed
5 ounces fresh baby spinach (about 4 heaping handfuls)
12 ounces artichoke hearts (I used previously frozen that I thaw, drain, and keep whole; dice them if you prefer)
one 12-ounce jar fire-roasted red bell peppers, drained and diced small (another red pepper variety may be substituted or use half of a fresh red bell pepper diced small and cook it with the chicken)
2 cups shredded Monterey Jack cheese (Pepper Jack or mozzarella may be substituted)
1/3 cup freshly grated Parmesan cheese
fresh parsley, optional for garnishing