Easy Buckeyes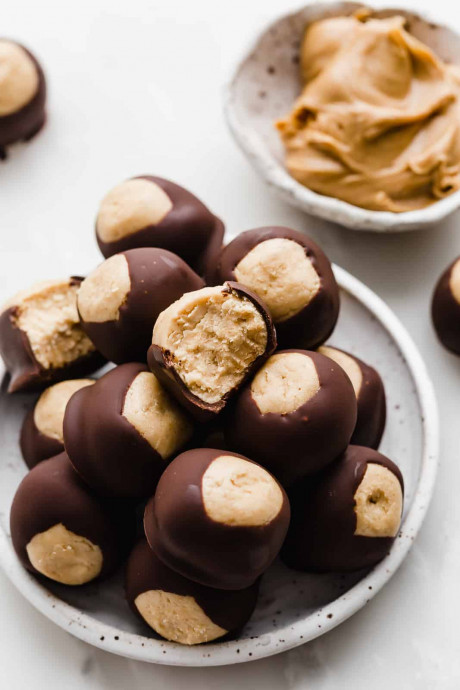 These buckeyes are made with an irresistible peanut butter filling rolled into balls, frozen, then dipped in chocolate. Made with only 7 ingredients, this is the easiest and most delicious treat!
This recipe is the easiest dessert recipe out there. It comes together in no time at all, no baking at all, no cooking at all, and is so delicious you'll just keep popping them in one after the other!
Peanut butter and chocolate is a match made in heaven. I can't get enough of it. Whether it's no-bake cookies, chocolate peanut butter protein balls, or muddy buddies, I'm a sucker for a delicious and easy chocolate and peanut butter recipe.
So, what's a buckeye? If you're into sports at all, you may have heard of the Ohio State Buckeyes. Ring a bell? Well, the state tree of Ohio is the buckeye. And the buckeye tree produces these seeds that are circular with a dark brown color and a light brown circle in the middle. These peanut butter buckeye balls are named because they resemble this seed from the buckeye tree. Lil' fun fact for you there. Store in the fridge in an airtight container for 5 days. You can freeze the finished buckeyes. Place them in an airtight container or a freezer safe ziplock bag and store in the freezer for 2-3 months.
Ingredients:
1 cup creamy peanut butter
6 tablespoons butter - softened
1/4 teaspoon vanilla extract
2 1/2 cups powered sugar
1/4 teaspoon kosher salt
1 1/2 cups semi-sweet chocolate - chopped (about 8 oz)
1 teaspoon vegetable shortening