Caribbean Passion Smoothie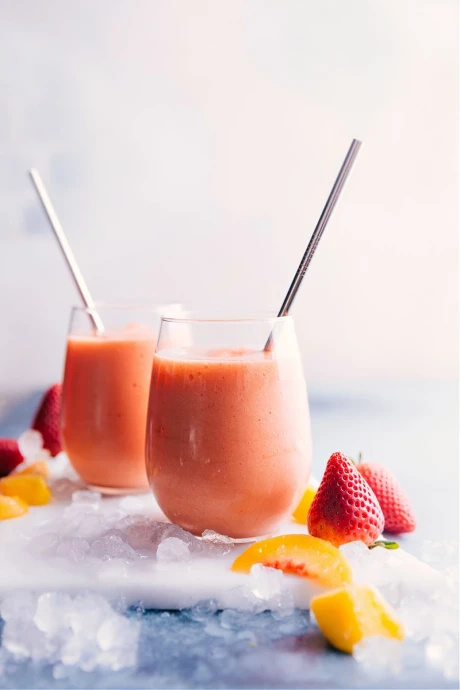 Caribbean Passion Smoothie is made with passion fruit juice, a blend of frozen fruit, ice, and orange sherbet. This tropical smoothie combines so many good fruit flavors — passionfruit, mango, peaches, strawberries, and orange. It's intensely fruity, very sweet, and ultra thick. Just like you expect from Jamba Juice®, you can expect from this recipe!
I recommend drinking this Caribbean Passion Smoothie all in one sitting, preferably right after making it. This smoothie doesn't sit or store well as the ingredients quickly begin to separate and the thick smoothie consistency is lost.
If you're uncertain it will all get finished in one sitting, I recommend halving the recipe — this drink is very forgiving as quantities are cut down.
We love being able to re-create our favorite smoothies from the comfort of home and this Caribbean Passion Smoothie is typically the most frequently made — it's my favorite!
Ingredients:
1 cup (260g) passion fruit juice
1 cup (180g) frozen strawberries
1/2 cup (80g) frozen peaches
1/3 cup (47g) frozen mango
1 cup (180g) orange sherbet
1 cup (180g) ice