Cookie Dough Cake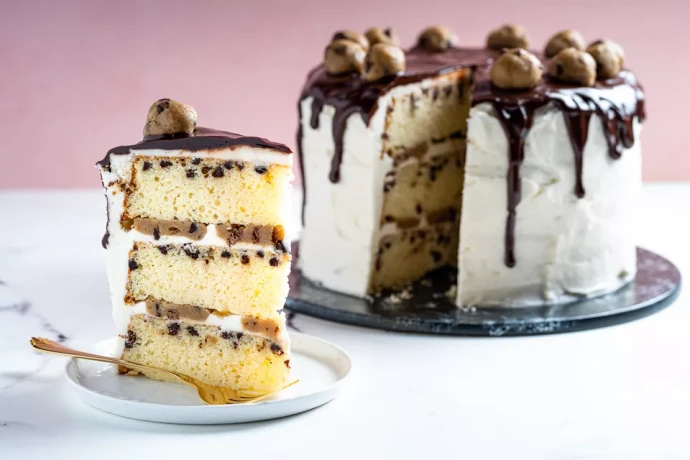 Sometimes you crave a cookie. Sometimes you want a slice of cake. Then there are the times when you just want to eat the raw cookie dough straight from the refrigerator. With this recipe for cookie dough cake, you can experience the best of all worlds in every bite.
Mini chocolate chips are added to the batter of a luxurious vanilla layer cake. It is then frosted with a simple buttercream frosting and sprinkled with tiny balls of edible cookie dough. Finally, the entire cake is blanketed with chocolate ganache and then garnished with more balls of cookie dough.
The most important thing to remember when making a cookie dough cake is to purchase prepared cookie dough that is edible when raw. Most of the brands sold today know that we all love to nibble at the raw cookie dough, so they have formulated their product to be enjoyed either cooked or uncooked. Read the labels carefully of your favorite product before using it in this recipe.
Ingredients:
For the Cake:
2 cups sugar
1 cup unsalted butter, softened
4 large eggs
3 cups cake flour
3 teaspoons baking powder
1/2 teaspoon salt
1 1/2 teaspoons vanilla extract
1 cup milk
1 cup mini chocolate chips
For the Cookie Dough Buttercream:
1 pound confectioners' sugar
1 cup butter, softened
6 tablespoons milk, more if needed
1 teaspoon vanilla extract
16 1/2 ounces chocolate chip cookie dough
For the Chocolate Ganache:
3/4 cup mini semisweet chocolate chips
1/3 cup heavy cream