No Bake Oreo Cake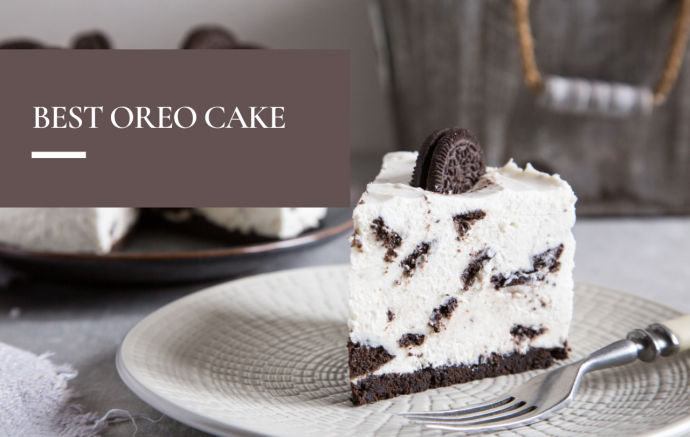 This beautiful black and white Oreo Cake is made with a delicious chocolate cake and a light, airy Oreo whipped cream frosting. One of the best and easiest cakes I've ever had! You'll love this fluffy, made-from-scratch white cake peppered with cookie pieces and covered in a cookies & cream-style vanilla frosting. I hope you're not getting tired of seeing cakes around here and will love this one, too! This simple no-bake cheesecake makes a perfect dessert for any time of year!
Baking Tips
I strongly suggest using a 9-inch springform pan for this recipe because it does make quite a bit of filling. If you don't have one, you can use a pie plate. If using a pie plate, I suggest using the same Oreo crust and cutting the filling recipe in half since it would be far too much filling.
Before mixing up the crust, line your springform pan with some parchment paper to prevent it from sticking and make it easier to remove from the pan.
Make sure that your cream cheese is at room temperature before getting started, this ensures a smoother filling with no lumps.
I suggest letting this chill in the refrigerator for at least 4-5 hours, but overnight is even better
Ingredients
For the crust:
24 Oreos
4 tablespoons butter , melted
For the cake:
16 ounces brick-style cream cheese , softened to room temperature
1 cup powdered sugar
1 teaspoon vanilla extract
2 cups cold heavy whipping cream
15 Oreos , chopped
Topping (optional)
6 Oreos, chopped
Directions
Step 1
Add the Oreos to a food processor and process until you have fine crumbs. Scoop the crumbs into a mixing bowl, and the melted butter, and mix until are of the crumbs are moistened.
Line the bottom of a 9-inch springform pan with parchment paper, scoop the mixture into the pan, and firmly press it down into one even layer. Transfer to the refrigerator to chill while you make the cheesecake filling.
Step 2
To make the cheesecake:
Using a stand mixer fitted with the whisk attachment, or in a large mixing bowl using a hand-held mixer, beat the cream cheese until smooth. Add in the powdered sugar and vanilla extract and mix until well combined.
Step 4
Pour the heavy whipping cream in a separate bowl. Start mixing on low speed, then increase the speed to medium-high until the mixture thickens and stiff peaks form. Add the whipped cream to the cream cheese mixture and gently fold it in or mix it in on low speed with your mixer until just combined. Then, fold in the chopped Oreos.
Step 5
Remove the springform pan from the refrigerator, scoop the cheesecake filling onto the crust, and carefully spread it around into one even layer.
Step 6
If using the topping (I sometimes use, other times not), add the extra chopped Oreos on top and gently press them down a little.
Step 7
Cover tightly and transfer back to the refrigerator to chill for at least 4-5 hours or overnight. Remove the no-bake cheesecake from the pan, slice and enjoy!
Store leftover cheesecake in an airtight container in the refrigerator for up to 4 days.
Bon Appétit!