Sheet Pan Chicken Fajita Crunchwrap Supreme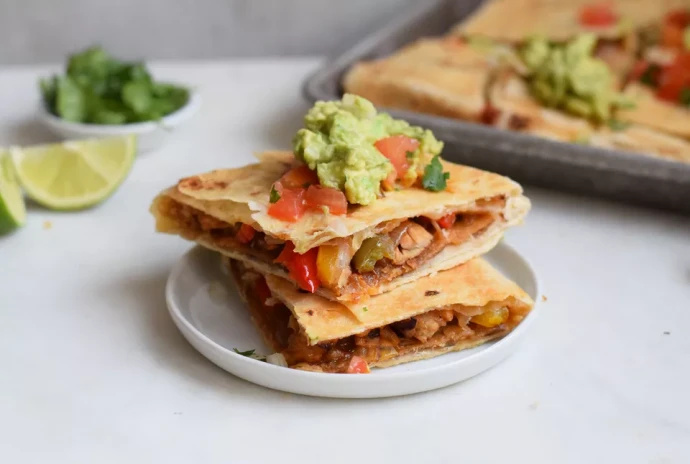 Fajita chicken sheet pan crunchwrap is the ultimate dinner feast. Tender fajita chicken, peppers, and onions are layered with tons of cheese, jalapenos, and crunchy tostada shells for a delicious, decadent sheet pan meal. All of the ingredients melded together gorgeously in my skillet into this incredibly fragrant mixture.
This dish can serve as many as 10 if you're making it as an appetizer or can be the main dish for 4 to 6. Slice it in wedges or squares and serve with your favorite salsas, guacamoles, or dips.
When it came out of the oven, the chicken fajita sheet pan crunch wrap was golden perfection. It took about 35 minutes or so, which was not that long at all. What if you can't find tostadas? You can find packaged tostada shells in many grocery stores, but if you cannot find them by you, there are several other options: Buy crunchy taco shells and break them in half. Buy soft corn tortillas and fry them yourself. Use your favorite tortilla chip (even Doritos work great).
Ingredients:
For the Fajita Chicken:
1 pound chicken breast
2 teaspoons olive oil (divided)
1 teaspoon lime juice
1 teaspoon Worcestershire sauce
2 tablespoons taco seasoning
2 teaspoons salt (divided)
1 red bell pepper (sliced)
1 green bell pepper (sliced)
1 yellow bell pepper (sliced)
1 large onion (sliced)
For the Crunchwrap:
1 tablespoon unsalted butter
9 flour tortillas
1 1/2 cup Monterey Jack cheese
1 1/2 cup cheddar cheese
1/2 cup pickled jalapenos
5 tostada shells
1 cup pico de gallo
1 cup guacamole
Optional Garnish: sour cream, cilantro