Shopska Salad (Bulgarian Salad)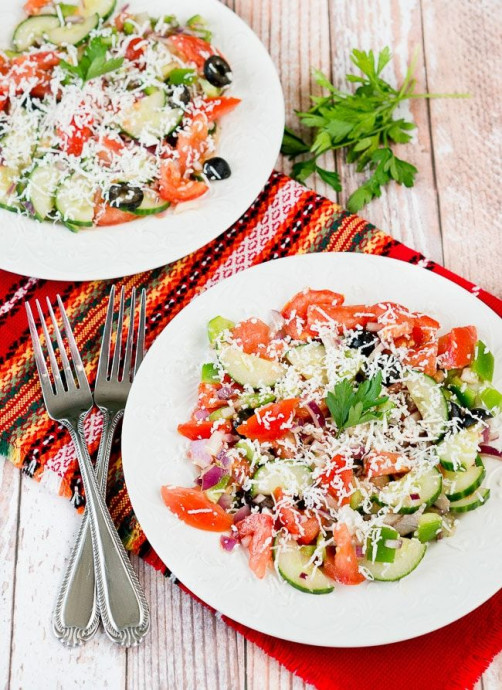 This Shopska salad is a wonderful side dish to your next BBQ. Serve it along side grilled chicken or steak. It is a super healthy salad that is also easy peasy to make. The ingredients are simple and it literally takes about 10 – 15 minutes to prepare.
This salad serves 4-6 people depending on your appetites. Shopska salad is a Bulgarian salad of tomatoes, cucumbers, bell pepper, onion, olives, seasoned with olive oil and salt, and topped with grated feta cheese. Sprinkle the feta cheese over the salad so that it's nicely covered. Serve immediately or chill before serving. Hope you enjoy it! Easy, healthy, refreshing, this salad is a perfect summer meal!
Ingredients:
3 tomatoes, cubed
1/2 long cucumber, or 1 regular cucumber, thinly sliced and halved, European
1 green bell pepper, cubed
1/4 cup black pitted olives, sliced
1/2 of a large red onion, finely chopped
1 cup Bulgarian feta cheese, thinly grated, sirene
1/4 cup extra virgin olive oil
salt, to taste