Pumpkin Bread Pudding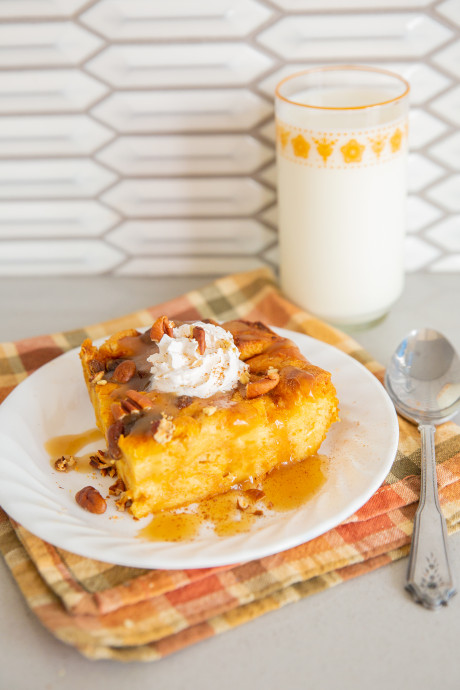 If you love bread pudding and you love pumpkin pie, then you are going to flip over this pumpkin bread pudding recipe! This is a delicious cross between a pumpkin pie and a bread pudding, which means that it's going to be a very pudding like consistency rather than a solid, sliceable baked good. It's basically pumpkin pie filling that soaks into bread cubes and that makes it about 50% firmer than your average pumpkin pie. I'm just warning everyone ahead of time that bread pudding doesn't sound a solid as the name, it is still very much a pudding consistency! This does bake up into a delicious pumpkin spice raisin filled dessert OR breakfast!
Some tips: When you use the condensed milk it sweetens up the plain pumpkin puree, however by the time you add in the milk and eggs, it's going to be less sweet. Like I show in the recipe below, TASTE TEST right before you add the eggs.
If you want to add an adult twist to this recipe, soak your raisins in rum before you add them to this recipe!
Because this can take up to an hour to cook, cover it in aluminum foil for the first half an hour, then remove and continue to bake until done. This also prevents your pecans from getting too browned on the top. You can also add the pecans on top 10 to 15 minutes before you pull it out of the oven to prevent them from over-browning as well.
Ingredients:
11 cups bread cubes one inch pieces
2 tablespoons melted salted butter
3 cups milk
one 300 millilitre can sweetened condensed milk
one 540 millilitre can pumpkin pie filling
2 teaspoons pumpkin pie spice
4 large eggs
1/2 cup raisins
1/2 cup chopped pecans