Spinach Balls Appetizer Recipe – Whole Wheat!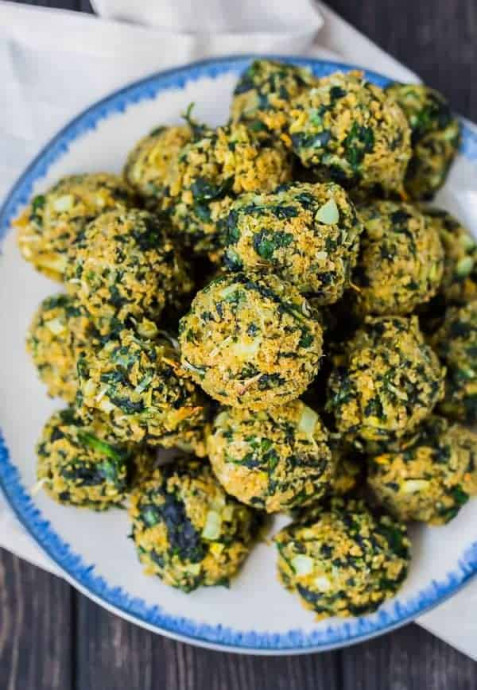 Spinach Balls are great hot and fresh out of the oven but are also great as they cool to room temperature, making them a perfect appetizer! These are always a huge hit! The first great thing about these spinach balls, especially in summer time, is that they are terrific fresh out of the oven, but also absolutely fantastic as they cool to room temperature. Meaning the last one is going to taste just as fabulous as the first one.
The next great thing about these spinach balls is that you can roll them a couple hours in advance and bake them right before your guests arrive.
Another absolutely fantastic thing is that these spinach balls have some nutritional benefits, unlike some appetizers you might find at parties. I would eat these with a salad for lunch. They're packed with spinach, whole wheat bread crumbs, and eggs. They're really quite easy to make. I used fresh spinach but you could use thawed frozen spinach to take a step out of the equation. In order to perfectly portion them and speed up the ball rolling process, I used one of my favorite kitchen tools, a cookie scoop. It's great for cookies, of course, but it's also perfectly suited for meatballs, spinach balls, and energy bites. For these spinach balls, I use a 1.5 tablespoon scoop, or a #40.
Also, do yourself a favor and bake these on parchment paper (this is the kind I currently buy). Quick and easy cleanup!
Ingredients:
16 ounces fresh spinach
2 cups whole wheat Panko bread crumbs
1 cup grated Parmesan cheese
1/2 cup finely minced onion
4 large eggs, beaten
4 tablespoons (1/2 stick) butter, melted
1 teaspoon garlic powder
1 teaspoon Italian seasoning
1/2 teaspoon black pepper
1/8 teaspoon freshly ground nutmeg