Best Balsamic Glaze Recipe (Balsamic Reduction)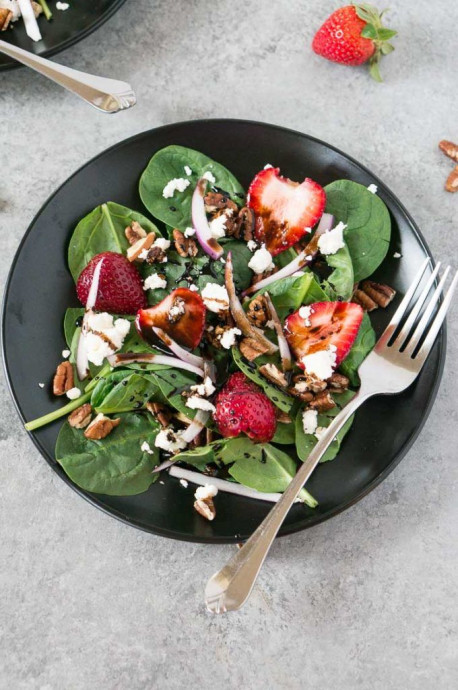 This delicious sweet and tangy balsamic glaze (also know as balsamic reduction) is quick and easy to make with just two ingredients. Use it to elevate sweet and savory dishes and use it warm or cold. This deliciously sticky and rich balsamic reduction is an easy way to add flavor to all of your favorite foods. It's super easy to make with just two ingredients and it's ready to use in less than 10 minutes. Make a batch of this balsamic glaze recipe to drizzle over meats, salads, and even desserts!
Balsamic glaze, also called balsamic reduction, is essentially a reduction of balsamic vinegar. By simmering the balsamic vinegar in a saucepan, it is reduced down and thickened to a maple-syrup-like consistency. Additional sweeteners like honey or maple syrup can be added but even without the sweeteners, this homemade balsamic glaze will be sweet from the concentrated sugars in the balsamic vinegar. The balsamic reduction glaze is very dark in color and has a sweet and deep intense flavor. Balsamic vinegar is delicious by itself, but by reducing it, it intensifies the rich flavors and turns it into a thick and pourable balsamic sauce. The honey (or maple syrup) helps to balance out the acidity and it's such an effortless way to add flavor to so many dishes.
This honey balsamic glaze has so many uses! You can use it on sweet and savory foods. Salads: It's a great way to liven up salads, it's a wonderful addition to a simple Caprese or strawberry spinach salad. Vegetables: I love to drizzle it warm over vegetables, like balsamic brussels sprouts, roasted carrots, or roasted potatoes. Protein: Brush it over baked chicken, salmon, and grilled steak. Desserts & appetizers: It's great served over fresh strawberries, watermelon, and ice cream is always a crowd pleaser! It also makes an excellent addition to a cheeseboard.
Ingredients:
1 cup balsamic vinegar
1-2 Tbsp honey or maple syrup