Paleo Flourless Chocolate Cake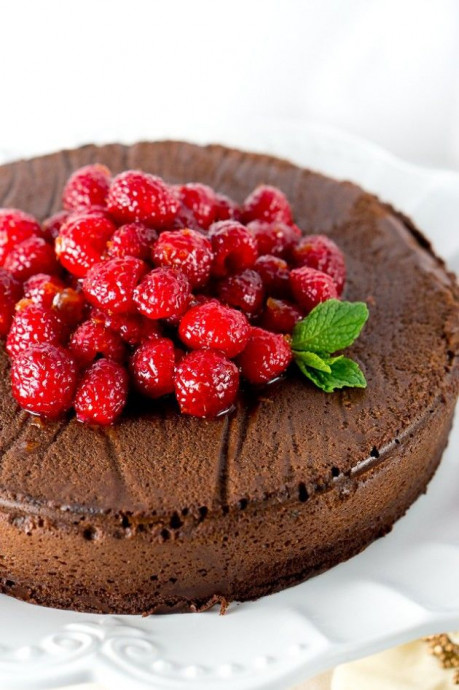 If you love chocolate, or you have a chocolate lover in your life, this recipe is for you. It's a wonderful Paleo flourless chocolate cake and the texture is amazing, dense, rich and creamy. And the raspberry apricot glaze is oh-so-good, it pairs wonderfully with the dark creamy custardy cake and adds nice sweet fruity flavor. Yum! This flourless chocolate cake is also gluten-free and paleo (if you use ghee). It's a chocolate lover's dream come true. This decadent flourless chocolate cake is pretty easy to make and it tastes Amazing! Only 4 simple ingredients (of course lots of chocolate). It's the perfect dessert recipe for any special occasion or a Valentine's Day dessert for your significant other.
The Raspberry Apricot Glaze is so easy to make! Heat 2 Tbsp apricot preserves in a small pan over medium heat. Break it down with a spoon, and remove from the heat once it's broken down. Fold in 1/2 cup (or more) rinsed raspberries and mix carefully, making sure you don't break them. Now you can decorate your flourless chocolate cake as you wish. Enjoy!
Ingredients:
1 cup coconut sugar
1/3 cup water
1 Tbsp vanilla
pinch of sea salt
1 lb 16 oz 70% dark chocolate
1 cup 2 sticks grass fed butter (or ghee for paleo)
8 eggs