Mediterranean Tuna Salad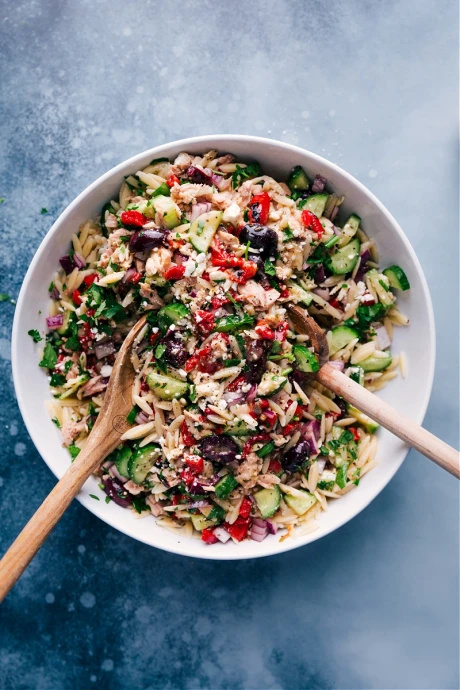 This nutritious and flavorful Mediterranean Tuna Salad has tender orzo pasta, olive-oil-packed tuna, crisp cucumbers, smoky red peppers, tangy red onions, fresh herbs, and a lemon-oregano vinaigrette.
We love a great creamy tuna salad as much as the next person, but there's something incredibly refreshing about a vinaigrette-dressed tuna salad. This salad is light, fresh, and packed with good Mediterranean-inspired ingredients.
This salad is incredibly filling, loaded with texture, and packed with good, nutritious ingredients. Dress to preference. I love a generously dressed pasta salad, but I know there are other opinions on that. Add the dressing slowly and to personal preference. You likely won't want the entirety of the dressing on this Mediterranean Tuna Salad, but then again, you just might want it all! I'd rather you have more than not enough. Leftover dressing stores nicely for up to a week in an airtight container in the fridge.
Also, if this salad is being served potluck style and sitting out for a bit, it does absorb the dressing rather quickly. You may want to leave the dressing out next to it and occasionally drizzle on an additional tablespoon and toss everything together again to keep this salad tasting fresh and vibrant.
We love using any leftover dressing on roasted vegetables, quick side salads, or over raw garden veggies.
If you have time, make the dressing in advance. This dressing improves if it's made in advance and chilled; the flavors meld together and intensify; plus, it's just better chilled!
Ingredients:
1/4 cup (54g) red wine vinegar
2 tablespoons (31g) Dijon mustard (do not use regular mustard)
1 teaspoon dried oregano
1 clove garlic, minced (1 teaspoon)
1/2 cup (98g) extra virgin olive oil
3 tablespoons (47g) lemon juice + 1/2 teaspoon lemon zest (1 large lemon)
1 tablespoon (24g) honey
Fine sea salt and pepper
Salad
1 cup (155g) orzo pasta (measured when dry)
2 cans (5 oz.; 142g EACH) tuna (preferably packed in olive oil), drained
1 cup (170g) diced (jarred) roasted red bell peppers, (~3-4 peppers)
1/2 cup (65g) drained and coarsely chopped kalamata olives
1/2 cup (18g) chopped flat leaf Italian parsley
1/2 cup (61g) diced red onion (~1/2 an onion)
1-1/3 cup (180g) chopped cucumber (~1 english cucumber or 3 Persian/salad cucumbers)
1/2 cup (62g) crumbled feta cheese