Thai Green Chicken Curry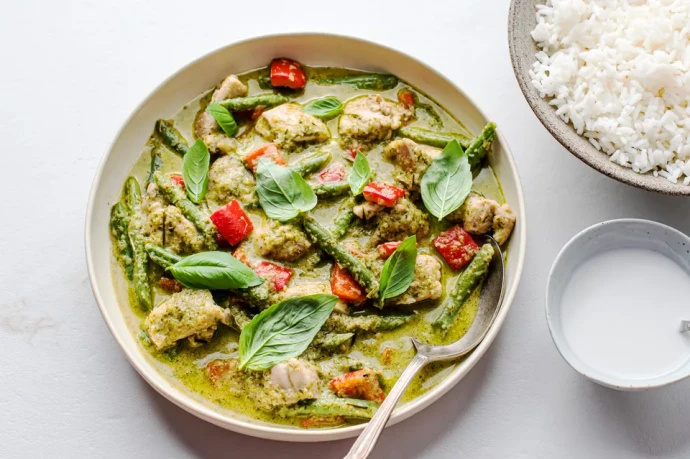 Curries are an essential part of Thai cuisine. Colorful, fragrant, and powered with an army of fresh flavors, curries have many versions, but they all follow some basics and they all rely on some vital ingredients to achieve the classic depth of flavor. Green curry is thick, creamy, filling, and bright. Between red, yellow, or green, the latter is one of the most famous and sought-after dishes—beautifully vibrant thanks to the addition of Thai basil, cilantro, and makrut lime leaf and peel.
Although green curry is usually made with chicken or beef, there are also versions with fish dumplings and others that replace the animal protein for extra firm tofu. A perfect balance of salty, spicy, sweet, and sour, this aromatic Thai green curry is beautiful over jasmine rice, or for a fiber-rich dish, use steamed quinoa instead.
This recipe uses the classic protein of chicken and has all the easy instructions to make the curry paste from scratch by combining an assortment of fresh and dried herbs with fish sauce and coconut milk in a food processor. For a perfect dish, be mindful of cutting the chicken into smaller pieces so the meat can be cooked thoroughly and soak up all of the flavors, and to always use full-fat canned coconut milk.
Ingredients:
For the Green Curry Paste:
1/2 teaspoon ground coriander
1 stalk lemongrass, minced
1 thumb-sized piece ginger, grated
3 to 4 cloves garlic, minced
1 loosely packed cup fresh cilantro leaves and stems, coarsely chopped
1/2 teaspoon ground white pepper
1/4 cup diced shallot (or purple onion)
1/2 to 1 green chile, sliced
1 teaspoon shrimp paste (or 1 tablespoon fish sauce)
2 1/2 teaspoons fish sauce
1 teaspoon brown sugar
1 teaspoon fresh lime juice
1/2 teaspoon ground cumin
1/4 can coconut milk
For the Chicken Curry:
2 teaspoons peanut oil
3/4 can coconut milk
1 1/2 pounds boneless chicken breast (or chicken thighs), cut into bite-size pieces
1 handful green beans (or 1 small zucchini or other vegetable of choice)
1 medium red or green bell pepper, coarsely chopped
4 makrut lime leaves (or 1 teaspoon grated lime zest)
1 generous handful fresh Thai basil (or sweet basil), optional
For Serving
4 cups cooked jasmine rice