Greek Yogurt Coleslaw with Radishes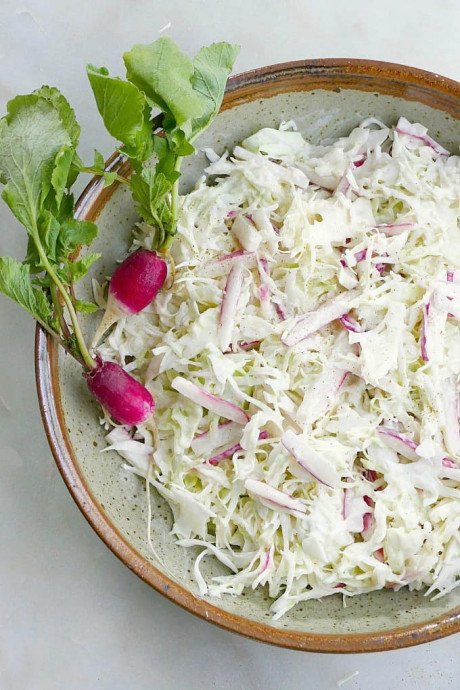 This Greek Yogurt Coleslaw with Radishes is creamy, crunchy, and nutritious without a heavy dressing. Bring this healthy side dish to your next cookout or BBQ, or use it as a condiment for sandwiches and tacos.
Traditional coleslaw dressing uses mayo and vinegar, which is what makes it creamy and tangy. But you can use Greek yogurt as a base for the dressing and still maintain the same texture and flavor.
I also added apple cider vinegar to contribute additional tanginess and a little sweetness too…plus some garlic, honey, and celery salt. Besides the healthier dressing, this dish is unique in that it incorporates radishes. I did this because they 1) help brighten up the dish and 2) add a sharp bite that complements the tanginess of the dish.
And they turned out to be a great addition!
I recommend using French breakfast radishes, which are the long, skinny radishes pictured below. This is because you need to slice them into matchsticks, and it's easier to do that with French breakfast radishes than round ones.
Greek yogurt coleslaw is an excellent side dish for summer cookouts or barbecues. It would also taste great on tacos, on sandwiches made with my BBQ Lentils, on top of grilled salmon, and as a side to beef or veggie burgers.
Ingredients:
6 cups shredded green cabbage - from ~1/2 head cabbage
1 cup radishes - sliced into matchsticks, I recommend 1 bunch of French breakfast radishes
2/3 cup plain Greek yogurt
1/4 cup apple cider vinegar
1 tbsp honey
1 clove garlic - minced or pressed
1/2 tsp celery salt
1/2 tsp sea salt - more to taste