Steak and Eggs With Chimichurri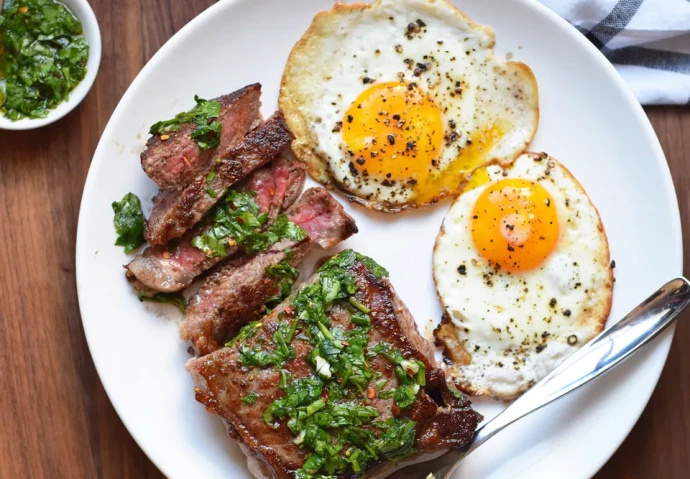 Steak and eggs are a hearty breakfast worthy of a special occasion like Father's Day or Valentine's Day, but it's easy enough to make for any old weekend. Treat yourself to this high-protein, low-carb dish and start your day right.
We topped the steak with a fresh and bright chimichurri. The garlic and fresh herb sauce is easy to whip together and tastes and looks impressive, but you could top this steak with your choice of sauce. Red ranchero or pesto are also delicious.
Prepare the eggs however you want but these buttery sunny side up eggs look great on a plate. Serve this decadent meal with some crusty bread or your favorite toast to sop up all of the delicious steak and egg juices.
This breakfast is a large portion and you can crack a few more eggs if you're looking to share. You may have leftover steak if you're eating on your own, but it's great heated up again the next day with some fresh eggs.
Ingredients:
2 tablespoons chopped fresh parsley
2 tablespoons chopped fresh cilantro
2 tablespoons olive oil
1 tablespoon freshly squeezed lime juice
1 teaspoon minced garlic
2 teaspoons salt, divided
1/2 teaspoon crushed red pepper flakes
1 (6-ounce) rib eye steak, or sirloin steak
1 teaspoon ground black pepper
2 tablespoons unsalted butter, divided
2 large eggs
Hot sauce, optional for serving