Tortellini Tomato Soup with Fresh Tomatoes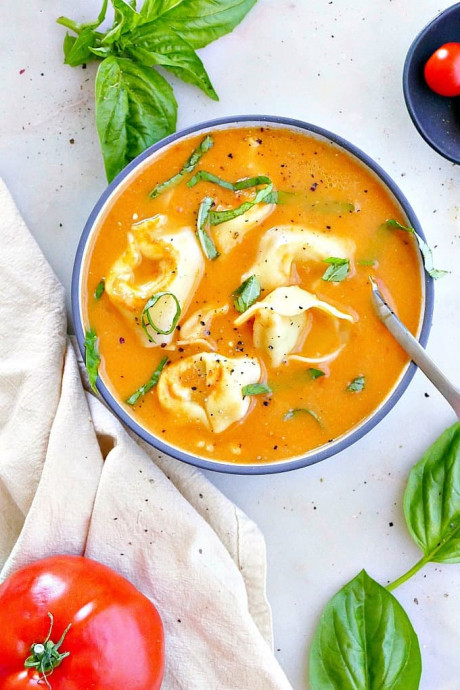 This tortellini tomato soup with fresh tomatoes is simple to make, flavorful, and rich, with healthy ingredients like greek yogurt. Use up your garden tomatoes with this delicious recipe! This recipe is a fun and fresh spin on traditional tomato tortellini soups that use canned tomatoes (nothing against those guys though) and heavy cream. It's literally bursting with flavor and is super creamy from whole milk greek yogurt.
I used a sweet onion to help mellow the acidic tomatoes and a little bit of butter to balance everything out. Oh, and you can't forget to top it with fresh basil. Highly recommend. This recipe is made in one large soup pot on the stove. First, heat some olive oil and butter in the pot. Add some pressed garlic and a diced onion. Cook for a few minutes, then add a whole bunch of roughly chopped tomatoes (like 8 cups worth)! Sprinkle in some salt and pepper.
Add vegetable stock, bring to a boil, then lower the heat to a simmer and cook the soup, uncovered, for 15 minutes. Next, puree the soup with an immersion blender, or carefully transfer it in batches to an upright blender. You might not need to do it in batches if you have a big blender.
Stir in an 8-oz package of cheese tortellini (it can be refrigerated or frozen) and increase the heat to medium. Cook for 7-8 minutes or until the tortellini are tender, but not falling apart. Stir in the greek yogurt, taste, and add more salt or pepper as desired!
Ingredients:
1 tbsp olive oil
1 tbsp butter
1 sweet onion - peeled, trimmed, and diced
3 cloves garlic - pressed or minced
8 cups tomatoes - any variety; roughly chopped
1 tsp tomato paste
2 cups vegetable broth
1/2 tsp salt
1/4 tsp pepper
8 ounces cheese tortellini - frozen or fresh package
1/2 cup plain whole milk Greek yogurt
Fresh basil - for serving