Tropical Mango Spring Rolls with Avocado-Cilantro Dipping Sauce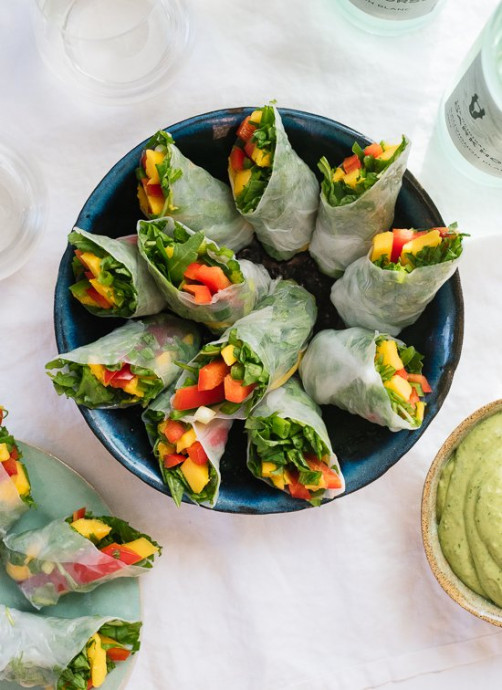 These bold, fresh, mango spring rolls make a perfect spring/summer appetizer. They're gluten-free and vegan for all to enjoy. This recipe is amazing and soooo simple!
Spring rolls might seem tricky if you haven't made them before, but you'll get the hang of them quickly! Feel free to make these spring rolls a few hours ahead and chill them until you're ready to serve. The recipe yields 6 to 7 rolls, which I served halved.
Ingredients:
Spring rolls
3 cups lightly packed arugula, roughly chopped
2 ripe mangos, sliced into long, thin strips (see photos)
1 large red bell pepper, seeded, membranes removed and sliced into long, thin strips
2 jalapeños, seeded, membranes removed and sliced into long, thin strips
4 green onions, green and white parts, chopped (about ⅓ cup)
6 to 7 round rice papers, also known as spring roll wrappers or spring roll skins
Creamy avocado-cilantro dipping sauce
2 ripe avocados, diced
⅓ cup lime juice (about 2 large limes, juiced)
⅓ cup water
½ cup lightly packed fresh cilantro
½ teaspoon salt