Vegan Strawberry Cake (GF)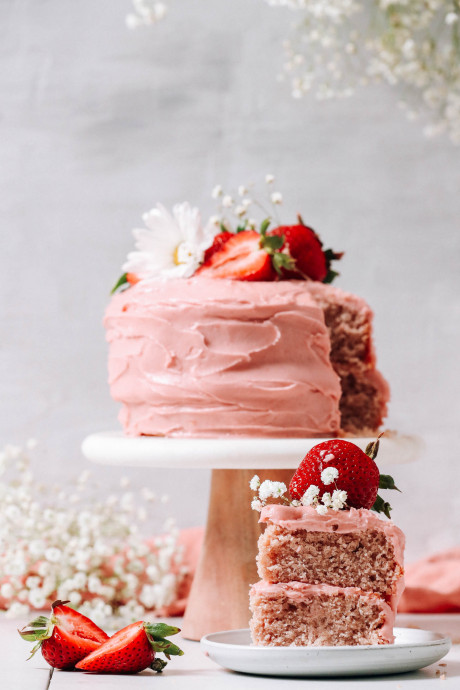 This strawberry cake is pure magic. One bite and it shot us straight back to childhood memories of eating hot pink cake at birthday parties. It's not only fresh and vibrant with strawberry flavor, but also incredibly fluffy and sweet, and each bite is like a flavor explosion in the mouth. We're talking rainbows and unicorns and happiness on a plate. Whoa.
Plus, top with our Vegan Strawberry Buttercream Frosting (infused with real, ripe strawberries), and you'll be in pure bliss! The best part? It's undetectably vegan and gluten-free, SO easy to make, and just 9 ingredients and 1 bowl required (we know, it's borderline sorcery). Let us show you how it's done!
This gluten-free, vegan strawberry cake relies on fresh strawberries to celebrate the season's harvest and infuse it with strawberry flavor, naturally.
Ingredients:
1 cup strawberry purée (~1 ½ cups or 200 g of halved, fresh strawberries as recipe is written // blend until smooth // organic when possible and as ripe as possible for best flavor)
1/4 cup avocado oil (or other neutral oil)
2/3 cup organic cane sugar (you could try subbing natural sweeteners, but we haven't tested any yet)
1 tsp vanilla extract
2 ½ cups almond flour*
3/4 cup potato starch* (not potato flour)
1/3 cup cornstarch* (or sub arrowroot, but we haven't tried it yet)
2 tsp baking powder
1/2 tsp sea salt