Black Bean Shakshuka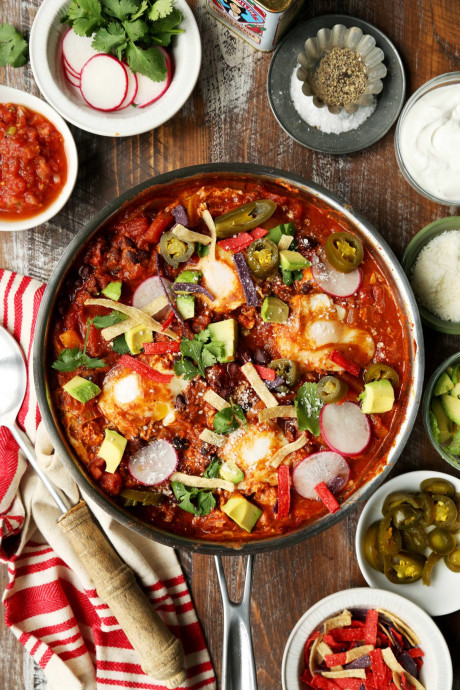 This recipe is both breakfast and dinner. It's both meals for both times of day. It's everything to everyone (that's an exaggeration) and if you have a skillet you have what you need.
Shakshuka is a Mediterranean dish defined by poaching eggs in a simmering spiced tomato sauce. There's onion and garlic and loads of earthy, bold spices like cumin, paprika and nutmeg. I'm riffing on tradition by adding black beans, yellow peppers and all the the toppings I might put on a tostada. Just a little play on this super classic dish.
Here's what you'll need for this Black Bean Shakshuka:
onion, garlic, and yellow peppers sliced and diced to bits and cooked in olive oil
chili powder, cumin, coriander, and smoky paprika are the spices I pulled from the pantry. Feel free to use all or just a few of these and anything else you might like. I think oregano would also be nice!
a big can of diced tomatoes and a small can of cooked black beans
eggs – 4 or 6 depending on how many you want to feed
Ingredients:
2 tablespoons olive oil
1 heaping cup diced yellow onion
1 yellow bell pepper, thinly sliced
1 clove garlic, coarsely chopped
1 1/2 teaspoon chili powder
1 1/2 teaspoon ground cumin
1/2 teaspoon ground coriander
1 teaspoon smoked paprika
1 teaspoon sea salt
1 28-ounce can diced tomatoes, undrained
1 15-ounce can black beans
4 – 6 large eggs
Optional toppings:
Fresh cilantro
Sliced avocado
Salsa
Sour Cream
Tortilla Strips
Pickled Jalapeños