Easy Spinach Dip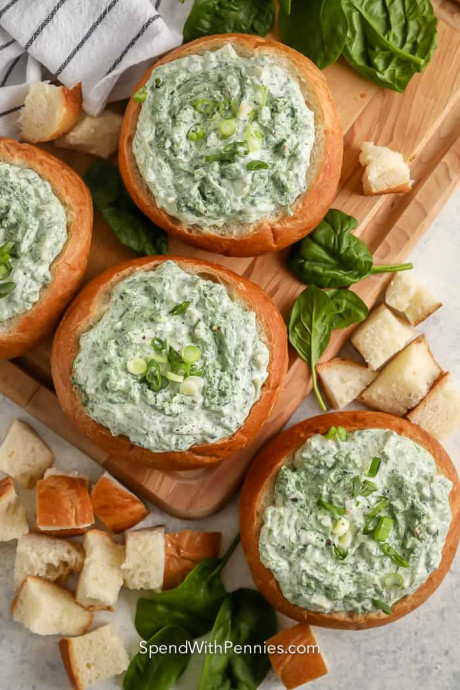 This Spinach Dip Recipe is a go-to easy appetizer or party dip that absolutely everyone loves!
A creamy base is mixed with frozen spinach, water chestnuts, and green onions for the perfect party mixture. Serve this spinach dip cold with chips, crackers, or garlic crostini, or use a loaf (or small rolls) as a bowl! This is a version of the Knorr spinach dip which is famous for good reason. It is so fast to make; simply stir and refrigerate. This recipe is versatile, add artichokes, jalapenos, or even diced red peppers.
This is not a baked spinach dip, it's served cold and often in a "bread bowl" and it's best made ahead of time. For this recipe, you'll simply need to mix the ingredients together (per the recipe below). They'll need to sit for a couple of hours for the flavors to blend and to allow the ingredients in the soup mix to rehydrate.
To Serve: Select a loaf of crusty bread, hollow out the middle (save the bread in the middle), and fill it with the spinach dip before serving. Any of the bread that was in the middle can be cubed for dipping (and of course as the dip is low, the bowl itself is perfect for tearing off pieces and dipping too)! For a party, use small dinner rolls and hollow them out for individual spinach dip bowls. This is also great served with crackers, tortilla chips, bread, or veggies as dippers too!
Ingredients:
10 ounces frozen chopped spinach 1 package, thawed
8 ounces water chestnuts canned, drained
2 cups sour cream or Greek yogurt
1 cup mayonnaise or dressing, low fat or regular
1 package dry vegetable soup mix 1.4 ounces
3 green onions chopped