Peach Hand Pies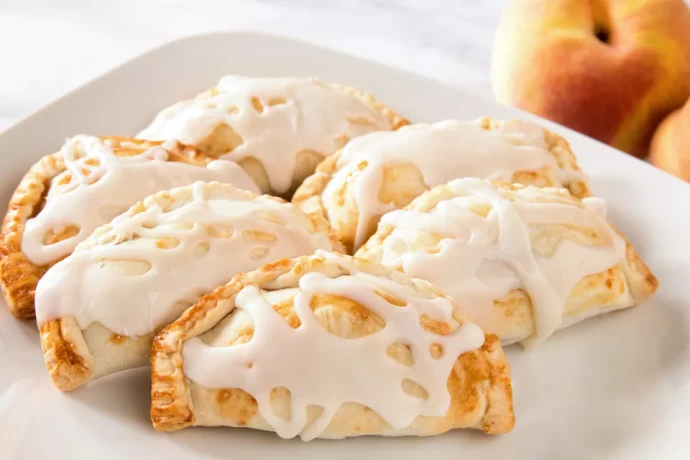 Enjoy the delicious taste of peach cobbler in a convenient hand pie. The peach cobbler hand pie recipe is fun and easy to make using refrigerated pie crusts. They're folded in half-moons, baked until golden, then drizzled with a powdered sugar glaze.
The hand pie filling is made with fresh peaches that are macerated in a combination of sugar, cinnamon, and nutmeg for that classic cobbler taste. Traditional peach pies and cobblers often use cornstarch to thicken the filling when it's heated. These hand pies use a no-cook filling, which takes less time, but it also needs to be strained and as dry as possible when shaping the pies. To put that sweet juice to good use, a little is added to the glaze for extra flavor.
If you're not going to eat them right away, add the glaze up to a couple of hours before serving, so the pies stay crisp. They're perfect for a sweet snack or a light summer dessert.
Ingredients:
2 9-inch store-bought or homemade pie crusts, thawed if needed
2 to 3 fresh peaches (about 1 pound)
1/4 cup granulated sugar
2 tablespoons brown sugar, firmly packed
1 teaspoon ground cinnamon
1 teaspoon freshly-squeezed lemon juice
1 pinch kosher salt
1 pinch nutmeg, optional
1 large egg white
1 cup confectioners' sugar
1/8 cup whole milk