Greek Rice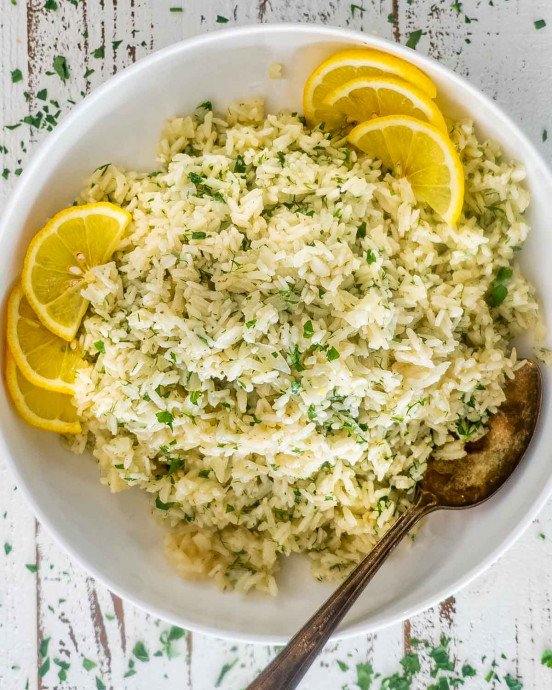 Delicious Greek Rice that's so easy to make and pairs beautifully with lots of Mediterranean favorites like Chicken Gyros or Chicken Souvlaki! This easy side dish is flavor-packed with onions, garlic, lots of fresh herbs and lemon juice!
I love easy sides like this tasty Greek rice that's lemon flavored and loaded with lots of fresh herbs like parsley and fresh dill. It's so delicious you'll want to eat it on its own. No more boring plain rice, this rice pilaf will transform a simple side into the star of the show.
This is such a great side dish because it pairs beautifully with so many dishes like Chicken Souvlaki, Chicken Gyros or Greek Meatballs, just to name a few. This rice pilaf is a fairly popular side dish, that I'm sure you've tried at your local Greek restaurant. But now, you can make it at home because it's simple and requires just a few ingredients. Be sure to store this Greek rice as soon as it's cooled as rice is a breeding ground for bacteria. Store in an airtight container in the fridge for 3 – 4 days. If freezing, store this dish in a freezer bag with the air pressed out. Thaw overnight in the fridge and fluff the rice before reheating. This dish will last up to 3 months in the freezer.
Ingredients:
2 tbsp olive oil extra virgin
1 small onion finely chopped
2 cloves garlic minced
1½ cups long grain rice washed well
2 cups chicken broth low sodium, or more depending on rice used
⅓ cup lemon juice freshly squeezed
½ teaspoon salt or to taste
¼ teaspoon black pepper freshly ground
¼ cup fresh parsley chopped
2 tablespoons fresh dill chopped