Chocolate Muffins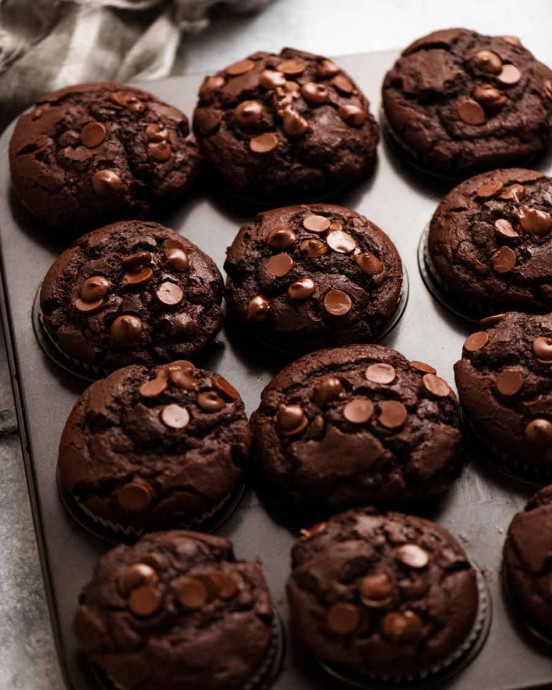 Chocolate muffins are not all created equal. I'm fussy about mine and make no apologies about it – there are a lot of calories in a muffin, so every one of them better be worth it! Here's my personal list of things a great chocolate muffin needs to have. It must: Have a lovely, crisp dome. Be tender and moist inside. Truly taste of chocolate. Be quick and easy to make (as muffins should be!). Not include obscure or just plain weird ingredients. Stay fresh for 3 days. Be still good for even another 2 days after that!
While this list of chocolate muffin characteristics might sound obvious to you, finding a recipe that ticks all these boxes is much harder than you think! In fact, in my whole cooking life, I have never come across a keeper.
After (many!) years of attempts, I finally buckled down and committed myself to pursuing the ultimate chocolate muffin recipe, even if it killed me. In the end, it was a plethora of simple baking tricks that came together in creating what is my idea of the perfect chocolate muffin. I'm VERY happy with the end result and thrilled to share it! These Chocolate Muffins will stay very fresh for 3 days which is a rare feat in the muffin world! Most muffins begin to turn stale within hours of being made. By the next day they usually need to be warmed up to resurrect them.
Ingredients:
1 3/4 cups plain flour (all-purpose flour)
1 1/4 tsp baking soda / bi-carb
1/2 tsp salt
1/2 cup Dutch process cocoa powder , sifted
1 tbsp instant coffee granules / powder , optional
3/4 cup milk , full fat, HOT
1/2 cup canola oil (or veg or other neutral flavored oil)
1 cup brown sugar , packed
1 tsp vanilla extract
3/4 cup sour cream or thick plain yogurt (fridge-cold fine)
1 large egg (55-60g / 2oz)
1 cup dark chocolate chips (for batter) (semi-sweet chips)
1/2 cup dark chocolate chips (for topping)