Broiled Salmon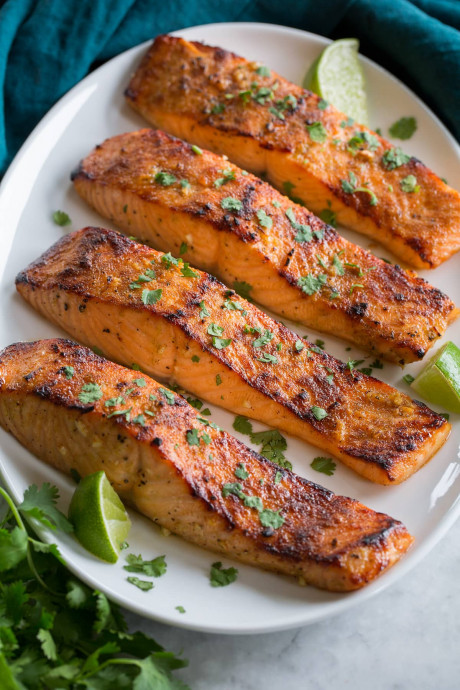 Quick and easy Broiled Salmon! Individual salmon fillets are immersed in a flavorful honey-lime marinade and. Then aligned on a baking sheet, sprinkled with spices, and finished under a hot broiler until just cooked and gently charred. It's flawlessly delicious!
My favorite way to make broiled salmon! I've long been partial to that honey-lime combo with salmon and here it was the clear winner vs. other marinades. It perfectly highlights the flavors of salmon and the honey assists in encouraging browning. Then the final touch of spices and one extra layer of flavor.
This recipe is a breeze to prepare yet the end result is perfectly impressive and even restaurant worthy. You get a tender, flaky, buttery interior and a gorgeously browned exterior with crisp edges, similar to a grill-kissed flavor. So much to love in every bite! Serve it with coconut rice (or plain jasmine rice) and sauteed vegetables (such as bell peppers, corn, red onion and squash), or a black bean and corn salad to complete it.
Ingredients:
4 (7 oz) skinless salmon fillets
3 Tbsp light olive oil
3 Tbsp lime juice, plus 2 tsp lime zest (from 2 limes)
3 Tbsp honey
1 Tbsp minced garlic (3 cloves)
1 1/4 tsp salt, or to taste
1 tsp freshly ground black pepper
1/2 tsp ground cumin
1/2 tsp ground coriander
1 Tbsp chopped cilantro (optional)