Vegan Orange Cinnamon Rolls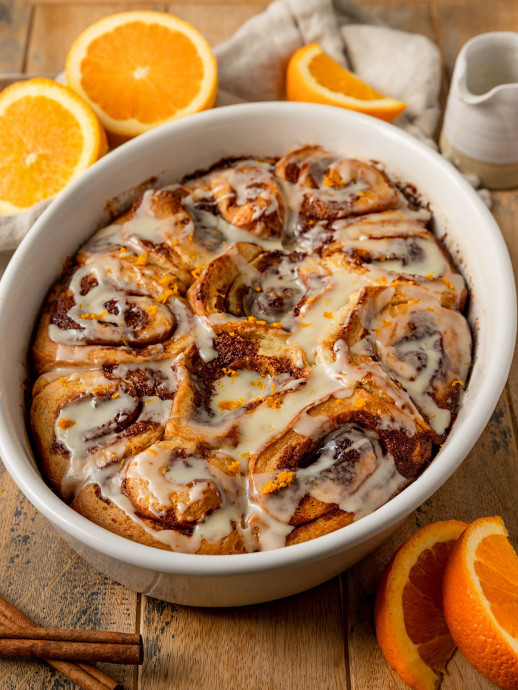 These Vegan Orange Cinnamon Rolls are made with a sweet orange dough, a thick layer of cinnamon sugar filling, and topped with the most delicious orange glaze! They truly are the best cinnamon roll to make overnight and eat for breakfast or brunch the next day.
Cinnamon Rolls are probably one of my FAVORITE recipes to make- especially since they're actually pretty easy to make vegan, dairy-free, and eggless.
These orange rolls are a new favorite as they feature the same cinnamon sugar flavor you have grown to love, but with a sweet citrus twist. In fact, they taste just like my childhood favorite Pillsbury Orange Rolls...but even better!
Leftover orange sweet rolls can be stored in a closed container at room temperature for 48 hours, in the fridge for 4-5 days, or in the freezer for up to 1 month. I recommend storing between sheets of parchment paper so they do not stick together!
Ingredients:
¾ cup oat milk
2 ¼ tsp yeast
½ cup melted vegan butter
¼ cup sugar
¼ cup orange juice
½ Tbsp orange zest about ½ orange zested
2 tsp vanilla bean paste or vanilla extract
3 ½- 3 ¾ cups all-purpose flour
½ tsp salt use ¼ tsp more salt if unsalted butter)
Cinnamon Sugar Filling
½ cup vegan butter, room temperature
½ cup brown sugar
2 tsp ground cinnamon
½ Tbsp orange zest about ½ orange zested
Orange Glaze
½ cup powdered sugar
1 Tbsp orange juice add more for a thinner glaze