Kale Salad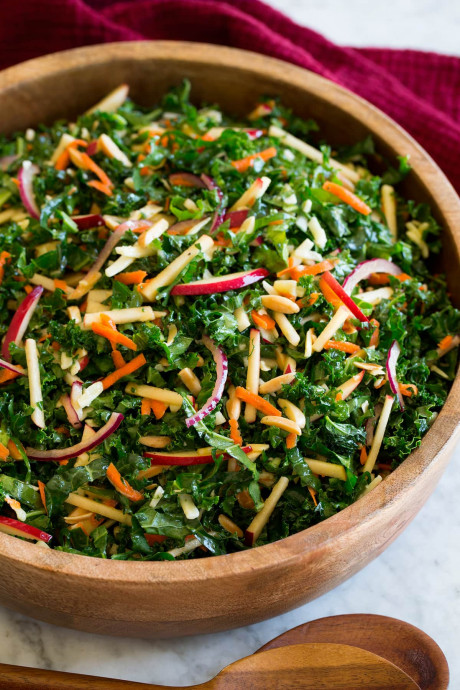 Refreshing Kale Salad made with crisp curly kale, sweet apples, shredded carrot, toasted almonds, sharp white cheddar and a lemony dressing. So much goodness in every bite!
This is my favorite easy kale salad! It's brimming with freshness and has a vibrant, sweet and tangy vinaigrette dressing that perfectly highlights it.
And can we appreciate the fact that it doesn't wilt within minutes of adding the dressing like other salads may start to? Which makes it a great option for a dinner party or cookout.
It compliments so many meals and uses ingredients that you can easily get year round. For a quick and simple dinner or lunch you can serve it as a side paired with a basic protein such as grilled chicken or salmon.
Helpful Tips for the Best Kale Salad
Use freshest, good quality ingredients.
Chill dressing for a little while for a colder more refreshing salad. Also chill other ingredients like the apple and red onion.
Rinse kale to remove dirt and even bugs, then be sure to spin dry in a salad spinner so dressing clings well to leaves.
Slice ingredients thinly to tone down crunch slightly and for more uniformity.
Serve salad within a few hours of preparing so it doesn't get soggy and so apples don't brown.
Ingredients:
1/2 cup olive oil
2 Tbsp fresh lemon juice
2 Tbsp apple cider vinegar
2 Tbsp real maple syrup
1 1/2 tsp dijon mustard
Salt and freshly ground black pepper, to taste
1 lb. curly kale (about 2 large bunches)
1 large (9 oz.) apple, recommend gala, julienned
2 medium carrots, shredded (1 cup)
3/4 cup unsalted slivered almonds, toasted
3/4 cup (3 oz.) shredded sharp white cheddar cheese
1/3 cup sliced red onion, slice very thin