Bacon Wrapped Brussels Sprouts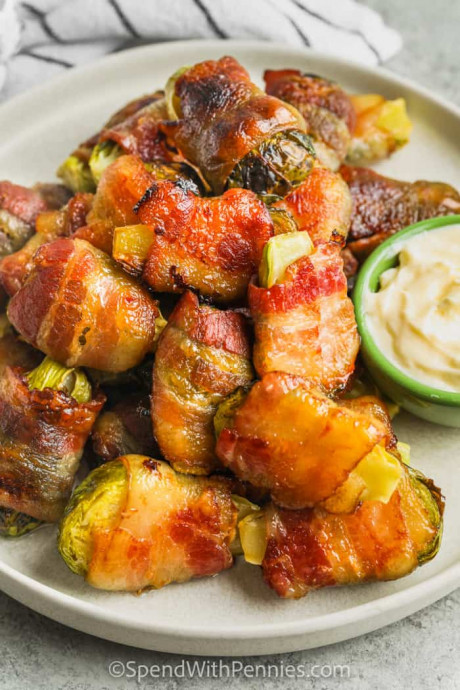 Sweet, salty, and savory, oven-roasted Bacon Wrapped Brussels Sprouts are the perfect side dish or appetizer recipe!
Easy, impressive and full of flavor, Brussels are wrapped in bacon, brushed with maple syrup, and roasted until tender and the bacon is sticky and crisp.
BRUSSELS SPROUTS: If your Brussels are large, cut them in half, if they're smaller they can be left whole. For best results, try to get them uniform in size. Create a medley of glazed veggies by using brussels sprouts, thick chunks of zucchini, or potatoes (adjust cooking time as needed).
GLAZE: Maple syrup makes this recipe super easy. But they can be sprinkled with brown sugar. Feel free to mix in your faves including balsamic vinegar, sriracha, cayenne pepper, or honey.
Store leftovers in an airtight container for up to 3 days. Reheat in the air fryer, microwave or stovetop.
Ingredients:
1 pound bacon
1 ½ pounds brussels sprouts
½ cup maple syrup