Dan Dan Noodles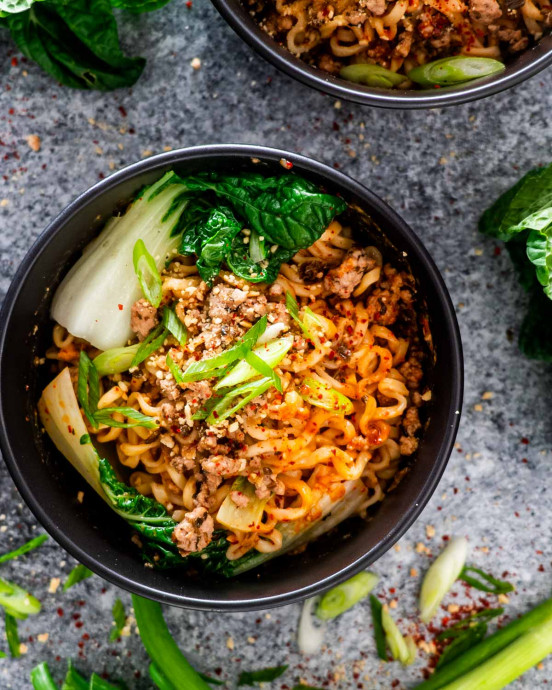 These Dan Dan Noodles are my interpretation of the most famous Sichuan street foods! Freshly boiled noodles served with a really spicy and savory sauce, crispy pork, bok choy and finally topped with some crushed peanuts. Stir everything together until the noodles are fully covered in this magical sauce, and all that's left to do is to slurp away!
This dish is all about the layering of all the components. You first start off with a spicy, fiery red chili sauce, followed by freshly boiled noodles and topped with marinated stir fried pork with preserved mustard greens (Sui MI Ya Cai). Finally, you top off the noodles with some crushed peanuts and green onions. If you want more spice, you can throw in some more of the Sichuan red pepper powder.
I, for one, am not someone who can handle really spicy foods, though I've tried to teach myself over the years to eat spicier and spicier. It's worked a bit, but I haven't really gotten too far. But this is what I love about this dish, you can add as much or as little of the fiery sauce as you like.
While the list of ingredients may look slightly long, once everything is prepped and ready to go, this Dan Dan Noodles dish is quite easy and quick to make.
Ingredients:
2 cloves garlic minced
2 tablespoons tahini preferably with toasted sesame seeds
2 tablespoons soy sauce low sodium
1 teaspoon dark soy sauce
3 tablespoons chili oil
1 tablespoon chili sauce such as Sambal Oelek
2 teaspoons Sichuan pepper powder or toasted Sichuan peppercorns and ground
½ pound ground pork
2 cloves garlic minced
1 tablespoon Hoisin sauce
1 teaspoon fresh ginger minced
1 tablespoon shaoxing wine or dry sherry
1 tablespoon soy sauce
1 tablespoon vegetable oil
2 ounces Sui Mi Ya Cai (preserved mustard greens)
1 pound fresh noodles such as Chinese egg noodles, ramen, or spaghetti
2 bunches bok choy or spinach
1 green onions chopped
1 cup chicken broth hot
1 tablespoon peanuts crushed, or sesame seeds