Buffalo Cauliflower Wings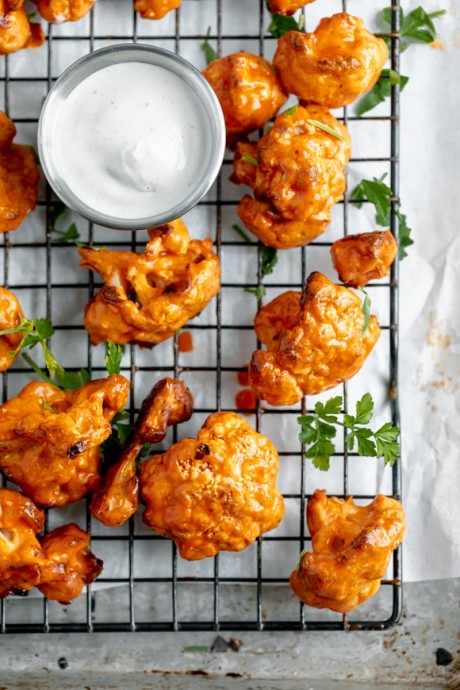 This easy buffalo cauliflower wings recipe is the perfect crowd pleasing appetizer to serve up for game day! These baked cauliflower buffalo wings are made with under 10 ingredients and are a great healthy snack! Make this easy baked buffalo cauliflower wings recipe as a quick appetizer for your next get together. An amazing Super Bowl food idea! It's super easy to make, a crowd pleaser, packed full of flavor, and relatively healthy.
These buffalo cauliflower bites are best when eaten fresh out of the oven because, like most veggies, cauliflower has a high water content. The longer the wings sit, the more moisture the cooked cauliflower releases, which can get rid of some of that signature crunch you crave in a buffalo wing.
Ingredients: 1 head of cauliflower, cut into florets, 3/4 cup flour, 1 teaspoon ground paprika, 1 teaspoon onion powder, 1 teaspoon garlic powder, 1 teaspoon salt, 3/4 cup buttermilk, 2 tablespoons butter, melted, 1/3 cup Buffalo Sauce
Prep Time: 10 minutes
Cook Time: 40 minutes
Total Time: 50 minutes