Thai Yellow Curry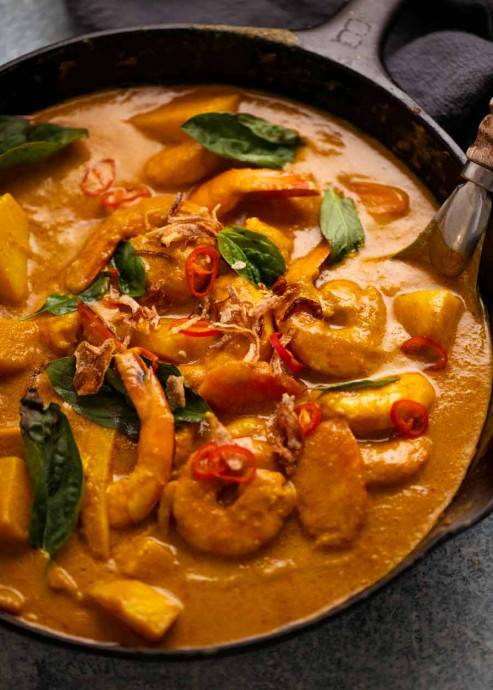 Thai curries are famous for the sublime aromatic flavours balancing sweet, tart, savoury and spiciness. Thai Yellow Curry is one such magnificent example, with its rich yellow colour, incredible depth of flavour and a heady combination of both fresh and ground herbs and spices.
This is made from scratch with a homemade Yellow Curry Paste. There are quite a few ingredients involved but if you truly want the best, it's worth it!
There are many things to love about Thai food, but for me, the jewel in the crown are the curries. I adore that elusive combination of fresh aromatic herbs and spices with the complexity you get from using umami loaded seasonings such as fish sauce and shrimp paste. The colours, meanwhile, make up a rainbow of deliciousness!
The sauce is savoury, sweet and fragrant with Thai aromatics including lemongrass, turmeric, garlic, eschalots and chilli. It can be as mild as you want or quite spicy – I enjoy it both ways.
It's not as tangy as other Thai curries, with the obligatory squirt of fresh lime juice you see in other Thai curries noticeably absent in this one.
It's got layers upon layers of flavours which means yes, there are quite a few ingredients – and it's worth it! Unlike other Thai curries, I really don't think any store bought curry paste comes anywhere near made from scratch!
Ingredients:
10 dried red chillis (~6cm/2.5″ long), chopped into 1cm / 0.5″ pieces
1 – 4 fresh birds eye chillis , deseeded, roughly (1 for extremely mild, 4 for fairly spicy)
2 lemongrass stems
1 large or 2 small eschalots , roughly chopped (~ 1/2 cup)
2 tbsp fresh turmeric , finely grated (about 2cm / 0.8" piece)
2 tbsp galangal , finely grated (about 2cm / 0.8" piece)
8 cloves garlic , roughly chopped
1 1/2 tbsp Thai shrimp paste in bean oil
1 tsp ground coriander
1 tsp ground cumin
1/4 tsp ground cardamom
1/2 tsp fenugreek powder
1/8 tsp white pepper (sub black)
3 tbsp vegetable oil (or canola or peanut oil)
1 medium potato , peeled, cut into 2.5cm / 1″ pieces x 1cm/ 0.4″ thick
1 small carrot , peeled, sliced into 5mm / 0.2″ slices on the diagonal
1 cup chicken stock , low sodium
300 ml / 10oz coconut cream
4 tsp fish sauce , plus more to taste
5 tsp white sugar
2 tsp tamarind puree (Note 12)
350g / 12oz prawns/shrimp , medium, peeled, tail on optional (700g/1.4lb unpeeled)
1/2 cup bamboo shoots , canned, drained, loosely packed
16 Thai basil leaves (highly recommended)
1 Red chilli , finely sliced (optional, use large for not spicy)
2 tbsp Crispy fried shallots (optional, store bought)
Jasmine rice