Air Fryer Mac and Cheese Balls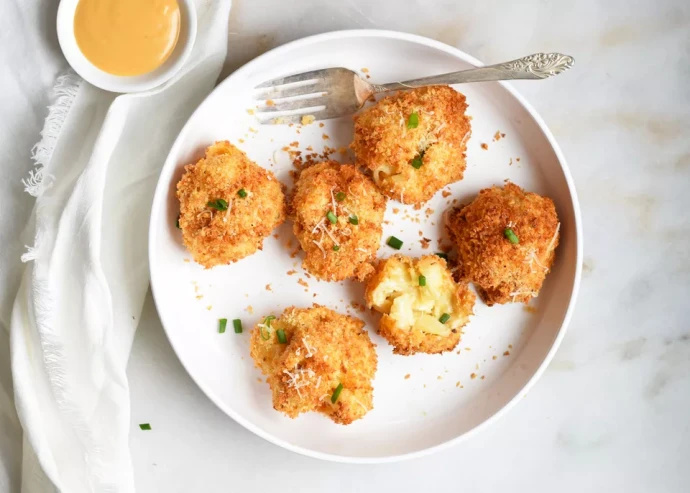 Air fryer macaroni and cheese balls are crispy on the outside, creamy on the inside, and so good, you won't believe they're not deep-fried.
Because you make the macaroni and cheese ahead of time, this recipe comes together quickly. It makes for a quick and easy party appetizer and is also a great way to use up leftover mac and cheese. With these air fryer cheese balls, there's far less fat than with deep-frying, but you still get the decadence from the mac and cheese.
You can use any kind of mac and cheese you want, but make sure it has a thicker cheese sauce. This will help it hold together when you are forming the balls as well as when you are air frying. If the macaroni and cheese is still saucy, even after refrigeration, it won't bind well when you try to form the balls. And if they don't bind well, they won't fry well—they will be more likely to fall apart.
Ingredients:
1 cup panko breadcrumbs
4 cups prepared macaroni and cheese, refrigerated
3 tablespoons flour
1 teaspoon salt, divided
1 teaspoon ground black pepper, divided
1 teaspoon smoked paprika, divided
1/2 teaspoon garlic powder, divided
2 eggs
1 tablespoon milk
1 /4 cup ranch dressing, garlic aioli, or chipotle mayo, for dipping, optional