Mushroom Risotto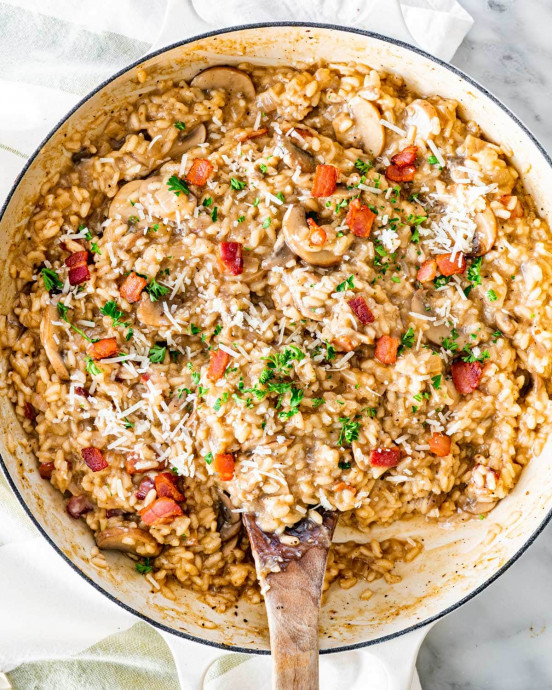 This Bacon and Mushroom Risotto recipe is rich, creamy, cheesy, made with salty bacon and earthy mushrooms. While this classic dish is usually enjoyed in restaurants with a high price tag, I've created this risotto with basic ingredients and fool-proof instructions. Time to treat yourself!
I genuinely don't think I could get sick of risotto. Creamy rice cooked with herbaceous broth, white wine, parmesan cheese, and, in this case, bacon and mushrooms! What a dream come true. Savor every last bite; you just won't want it to end.
I've mostly seen risotto on menus as an appetizer, but sometimes it'll be featured as a main dish. Let me tell you, this mushroom risotto recipe is so good I don't know if you'll end up with room for a main dish after the seconds or thirds you'll inevitably dig into.
Making risotto at home really is about the technique. It's not like making regular rice where you add the rice, right amount of liquid and let it do its thing. Making risotto is about nurturing it, add the rice, a bit of broth, stir it, add a bit more broth until it's all absorbed, etc.
Ingredients:
5 cups chicken broth low sodium
4 sprigs fresh thyme
8 slices bacon sliced into 1/4" – 1/2" pieces
1 tablespoon olive oil
1 medium white onion diced
8 ounces cremini mushrooms sliced
¼ teaspoon salt
½ teaspoon pepper
2 cloves garlic minced
1 ½ cups arborio rice aka risotto rice
½ cup white wine
½ cup parmesan cheese freshly grated
1 tablespoon parsley freshly chopped