Green Papaya Salad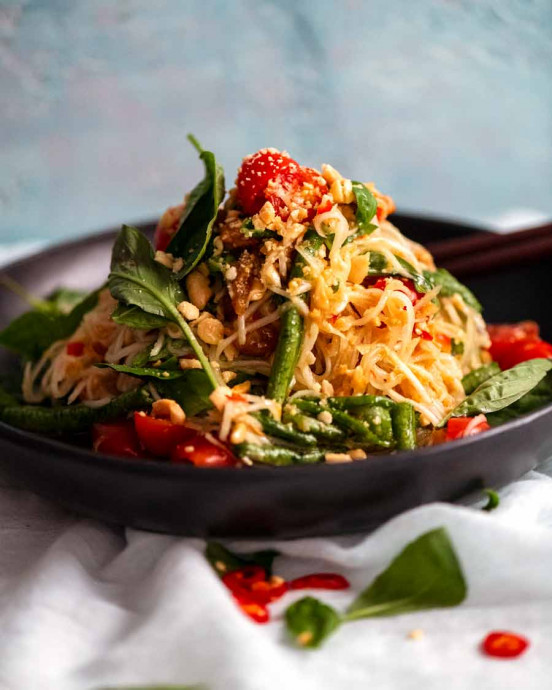 This is a salad that's about as far as you can get from Western salads. No mayo! No oil in the dressing! It's a zingy and spicy cold salad made with green papaya, a fruit which might be unfamiliar to most Westerners. Green papaya is simply unripened papaya, and has a juicy and slightly crunchy texture with a neutral taste. More on green papaya below, including a surprise substitution option!
When shredded, flavour clings to the green papaya. The tangle of threads becomes the perfect vehicle for carrying the kaleidoscope of tastes in the dressing: sweetness from palm sugar, salty savouriness from the fish sauce and dried shrimp, fresh tang from lime, and fiery pungency from a generous one-two punch of garlic and chilli.
Like all good Thai food, the taste of the finished dish should be a balance of sweet, salty, sour and spicy. The lime brings zing, palm sugar adds sweetness, while the fish sauce and dried shrimp lend deep savouriness and complexity.
Ingredients:
2 tbsp garlic , roughly chopped (10 normal or 4 large garlic cloves)
6 bird eye chillies, , roughly chopped with seeds (use fewer for less spicy)
6 tbsp dried shrimp
1 cup palm sugar , grated using standard box grater, loosely packed
1/2 cup lime juice
1/2 cup fish sauce
1 cup roasted peanuts , unsalted
20 snake beans , cut in 5cm/2″ pieces (raw)
3 cups grape tomato , cut in half (~400g / 14oz)
500g / 4 cups green papaya , shredded, TIGHTLY packed cups (~1 medium, 2/3 large)
1/2 cup Thai basil leaves