Peach Crisp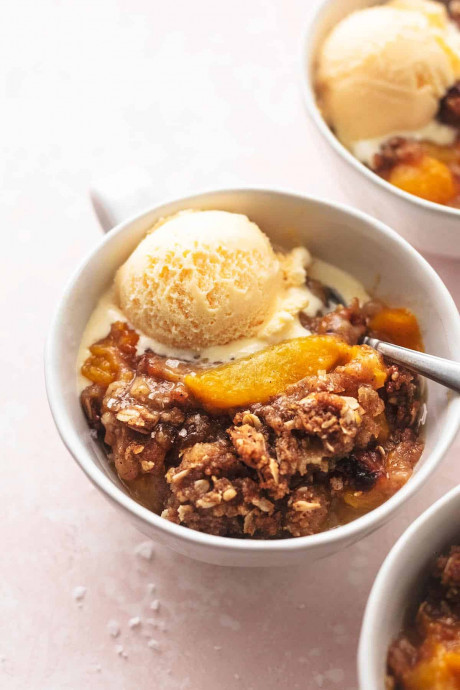 Overflowing with sweet, juicy peaches and topped with a cinnamon-sugar-oatmeal buttery crumble top, this peach crisp makes perfect use of all those in-season, delicious summer peaches and comes together in a flash!
When peach season arrives, I'm All. Over. It. I head to the farmers market and purchase bagfuls every time I see them. Then I bring them home and make all the peach things. Right now though, we are enjoying every bit of perfect weather this summer has been serving up and I wanted all the peaches, but also something quick. That's when this peach crisp recipe comes in handy. I can pull it all together in under 30 minutes and pop it in the oven while we eat dinner. Served right out of the oven with vanilla ice cream? Heaven.
While you can use frozen peaches, for best flavor I think it's important to use fresh peaches. They are in abundance right now and you can even pass this dessert off as a serving of fruit! I like to eat this best peach crisp basically right out of the oven. But when I have leftovers, I have been known to eat it right out of the fridge, too (for breakfast, at that!).
Ingredients:
3 pounds peaches - sliced
1 tablespoon lemon juice
½ teaspoon vanilla extract
3 tablespoons flour
½ cup sugar
vanilla ice cream - for serving
For the topping
1 cup flour
1 cup oats
1 cup brown sugar
1 teaspoon salt
1 teaspoon ground cinnamon
14 tablespoons butter - chilled and cut into small cubes