Soy Honey Glazed Chicken Wings (Baked Wings Recipe)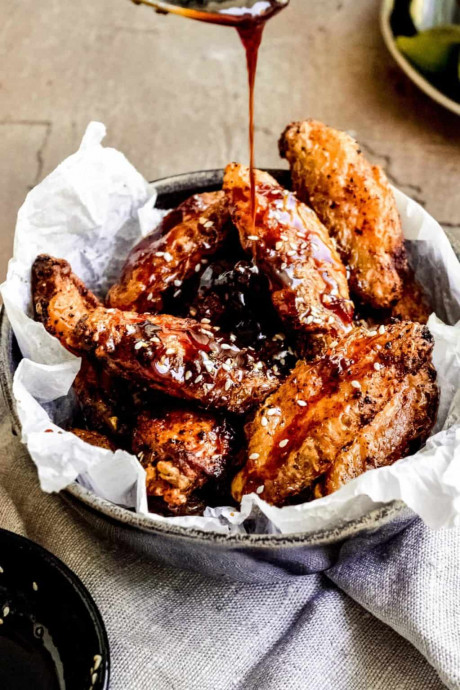 This soy and honey glazed chicken wing recipe is easy to make and so tasty! The wings are baked in the oven and topped with an Asian style sauce for maximum flavor! Who doesn't love chicken wings?! They are the perfect food to serve up to a crowd and they were made for game day! Easy to make and glazed with a deliciously sweet and salty sauce, you guys are going to love this recipe!
The glaze for these oven baked chicken wings is so tasty good! It's the perfect mix of sweet and salty and it's so easy to make. The soy sauce adds an umami (savory) flavor to the wings and that's balanced out with the sweet honey. These are so finger licking good! Be sure to serve the with plenty of napkins!
When it comes to chicken wings, I always prefer baking them rather than frying. It's obviously a healthier method to cook the wings, but I also like that it's hands off and there's a lot less clean up! The chicken is cooked perfectly and remains juicy and succulent.
Ingredients:
FOR CHICKEN WINGS:
2 pounds skin-on chicken wings bone-in
3 egg whites
¼ tsp salt
½ tsp paprika
½ tsp black pepper
FOR GLAZE:
½ cup honey
¼ soy sauce
1 inch knob fresh ginger grated
1 tsp red pepper flakes
1 tbsp worchester sauce
Juice of 1 lime
1 tsp ground coriander
1 tbsp sesame seeds
1 tbsp sesame oil
1 tbsp fresh cilantro chopped