California Avocado Chicken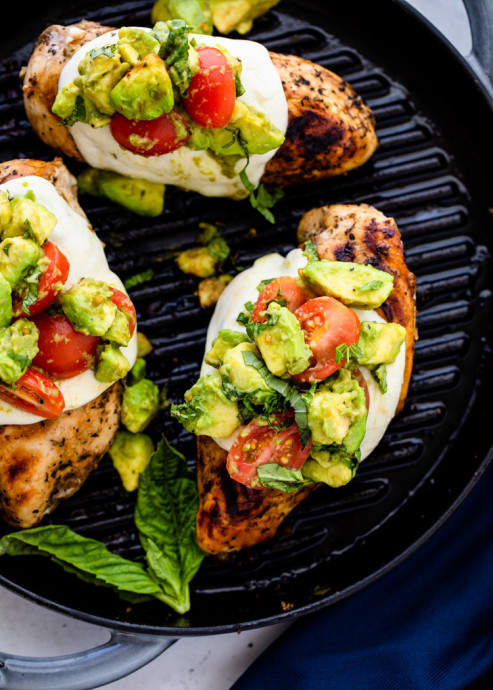 Keto-friendly California balsamic grilled chicken topped with fresh mozzarella, tomato, basil, and avocado. It's loaded with protein & healthy fats and is just 5g net carbs per serving!
This keto-friendly California chicken is one of my favorite weeknight meals because it's packed full of protein, healthy fats and is low in carbs.
The chicken is marinated in a garlic balsamic marinade and grilled to perfection and then topped with fresh mozzarella and a tomato, avocado, and basil salad. The combination is a match made in heaven and will be sure to make a comeback at your dinner table. To get started you will need to marinate the chicken in the balsamic marinade. is actually high in carbs but we will only be using 2 tablespoons in this recipe so it will not make a big impact on the overall carb count.
The chicken can be used right away if you are in a hurry or can be marinated in the fridge for up to 24 hours.
The next important component of this recipe is fresh mozzarella. The freshly sliced mozzarella can be substituted with just about any other melting cheese or slices of cheese but we highly recommend the freshly sliced mozzarella. It pairs well with the tomatoes and basil and will give you the authentic Italian Caprese flavor.
The next step to making this chicken is the avocado & tomato salad. It's a mixture of avocado, cherry tomatoes, fresh basil, and lemon juice. This mixture will create a vibrant salad that pairs very well with the balsamic garlic chicken.
The last and final step is to grill the chicken. This can be done on an outdoor grill or indoors in a grill pan or skillet. After the chicken is grilled, top it with the fresh avocado tomato salsa and serve right away!
Ingredients:
4 boneless skinless chicken breasts
2-3 cloves garlic minced
2 tablespoons balsamic vinegar
2 Tablespoons olive oil
1 tbsp Italian seasoning
1/2 teaspoon salt
1/4 teaspoon pepper
Avocado Tomato Topping
4 slices fresh mozzarella cheese
1 cup plum or grape tomato cut in half*
2 avocados diced
1/4 cup fresh chopped basil chopped
1 teaspoon olive oil
Juice of ½ lemon
Dash of salt and pepper