Cheesy Hamburger Bake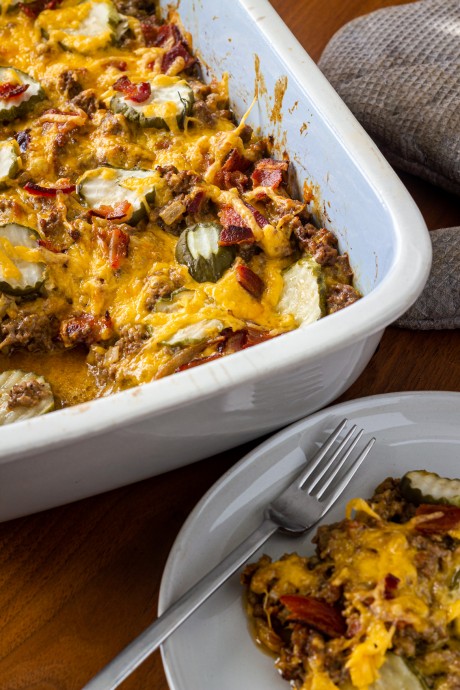 Burgers are easily one of my top favorite foods (only slightly below BBQ though). They're convenient, delicious and can be prepared with all sorts of toppings to keep things interesting. They are also a great keto option when dining out because just about every restaurant has an option. I've found most restaurants will cater to a low carb diet by wrapping the burger in lettuce or just leaving off the bun. I hate wasting food (even bread), so I make it a point to ask for no bun when ordering.
This cheesy hamburger bake tastes similar to the ones you'd order at your local hamburger joint. It combines cheese, mustard, pickles and bacon and then bound with a few eggs to keep it together. You could certainly just grill a burger patty, but this is more convenient to eat with a spoon. And whenever I can eat something with a spoon, that's a win in my book.
It's also great for leftovers. I'll typically make a big batch of it and portion out servings in glass containers. Then reheat it in an oven to keep the bacon and cheese nice and crispy. Moreover, the family loves it too so it's a frequent dish in our household.
Ingredients:
5 slices bacon
1/2 yellow onion chopped
3 cloves garlic chopped
2 lbs ground beef
salt & pepper
3 oz cream cheese
4 large eggs
3/4 cup heavy cream
3 tbsp yellow mustard
2 cups cheddar cheese shredded
hamburger dill pickles
1/2 cup cheddar cheese for topping