Korean Beef Bowls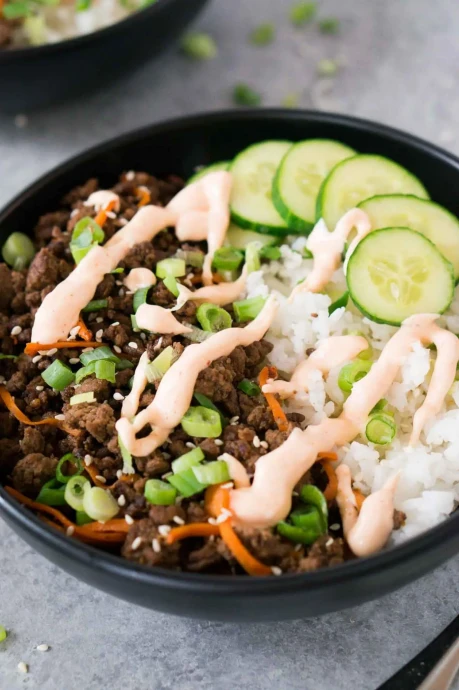 Liven up your dinner time with these delicious and easy Korean beef bowls. Ready to serve in 30 minutes, these beef and rice bowls are hearty and tasty, and a great option for a weeknight meal. If you are stuck in a bit of a mealtime rut, these Korean beef bowls are a great way to shake things up. Seasoned ground beef is cooked with carrots and placed on a bed of rice, before being topped with cucumber and green onions for one tasty dish that is full of taste and texture.
For more easy recipes, be sure to check out my beef chili and Mongolian beef. Why you will love this recipe! Quick: Ready to serve in 30 minutes, these Korean rice bowls come together easily. Flavorful: The beef is seasoned with ginger, soy sauce and sriracha for one delicious bite.
Hearty: This Korean beef bowls recipe is a great filling and comforting dinner, perfect after a busy day at the office!
Ingredients:
1.5 cups uncooked long-grain white rice
4 tablespoons sesame oil, divided
1 lb lean ground beef, I used 90% lean
1 tablespoon freshly grated ginger
4 cloves garlic, finely minced or pressed
4 tablespoons soy sauce
3 tablespoons rice wine vinegar
2 tablespoons sweetener or coconut sugar
4 teaspoons sriracha
1/4 teaspoon salt & pepper, each
1 cup carrots, julienne style
Cucumber slices, for garnish
4 chopped scallions, for garnish
Sesame seeds, for garnish
sriracha mayo sauce, for garnish