Pesto Chickpea Sandwiches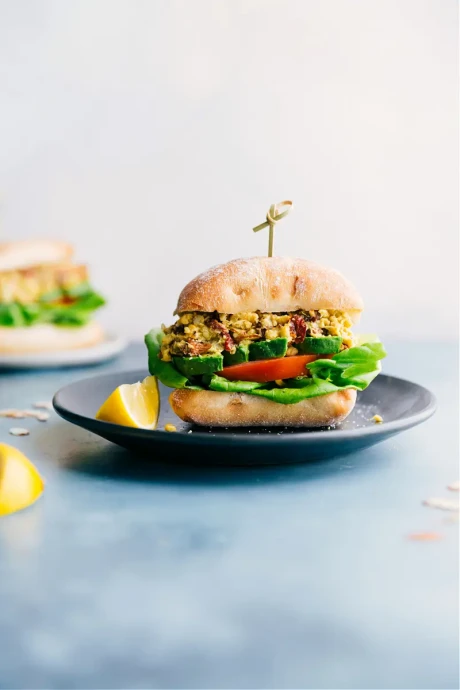 Pesto Chickpea Sandwiches are ready in a flash! Mash chickpeas with store-bought basil pesto, sun-dried tomatoes, and almonds for a flavorful, hearty, and nutritious meal!
These Pesto Chickpea Sandwiches are part of our Back-To-School Lifesavers — a series of recipes that are intended to have little (or no) veggie chopping, minimal prep time, around 10 ingredients or less (not including pantry staples), and use kid-friendly ingredients. When life is especially busy, big hearty sandwiches are one of my go-to choices for a fast dinner.
When you load this chickpea mixture on a hearty sandwich bun with tons of veggies, these sandwiches can definitely be considered dinner fare — lunch shouldn't get all the fun!
Even though these sandwiches are vegetarian, they have a very nourishing, meat-like filling that is loaded with (plant-based) protein. Pair the protein from the chickpeas with the good-for-you fats in the pesto and you'll be amazed just how satiating these sandwiches are!
Ingredients:
1 can (15.5 oz; 439g) chickpeas, (also called garbanzo beans), drained & rinsed
1/4 cup (40g) sun-dried tomatoes (packed in oil) Note 1
1/4 cup (60g) prepared basil pesto Note 2
3 tablespoons mayonnaise recommended: Best Foods/Hellmans
1/2 tablespoon honey
1 teaspoon EACH: lemon and Dijon mustard
Fine sea salt & pepper
1/4 cup (27g) sliced almonds
Assembly: bread/sandwich rolls, lettuce, tomato, avocado, onion, etc. (whatever you like on a sandwich!)