Chicken Ranch Wraps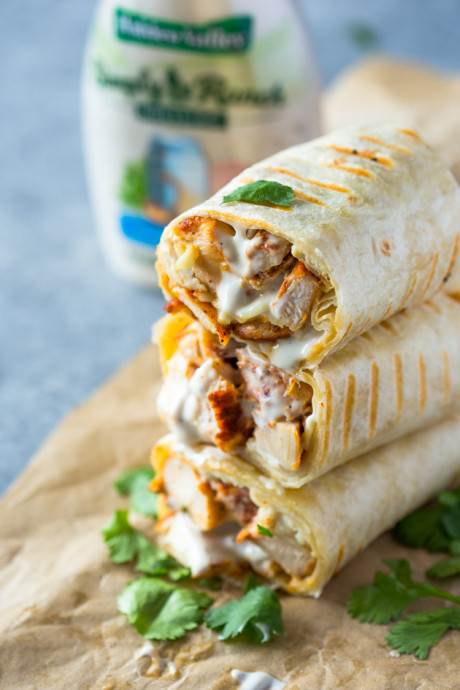 Healthy grilled chicken and ranch wraps are loaded with chicken, cheese and ranch. These tasty wraps come together in under 15 minutes and make a great lunch or snack! Ranch and chicken are a match made in heaven. Ever since I can remember, ranch was the only sauce I would dip my chicken in. What's not to love about creamy zesty ranch. If you're a huge fan of ranch dressing like I am, than you're going to fall in love with these chicken and ranch wraps. They are extremely easy to make and can be prepared ahead of time for work or meal prep. These grilled chicken and ranch wraps highlight the subtle flavors of the ranch dressing. Our favorite ranch dressing to use in these wraps is the NEW because it's made with no artificial preservatives, flavors or colors. It's made with real ingredients like buttermilk, garlic, onion, herbs and spices, all with a creamy taste!
For the chicken, you can use rotisserie chicken, leftover chicken, fresh grilled chicken or any type of cooked chicken you have on hand. To make the wraps, simply fill an 8" tortilla with cheese, cooked chicken, minced cilantro and lots of ranch dressing. Grill on a pan for a few minutes per side to crisp up the tortilla and melt the cheese.
If you're in the mood for more, go ahead and add some diced avocado, tomatoes, cooked bacon, lettuce or whatever your little heart desires and enjoy these tasty wraps any time of the day!
Ingredients:
2 cups cooked grilled chicken breasts chopped (seasoned with your favorite spices, see note*)
1/4 cup Hidden Valley® Simply Ranch dressing
1/2 cup mozzarella cheese
1/4 cup cilantro minced (optional)
4 8 '' tortillas