Black Bean And Avocado Salad (Great With Chips!)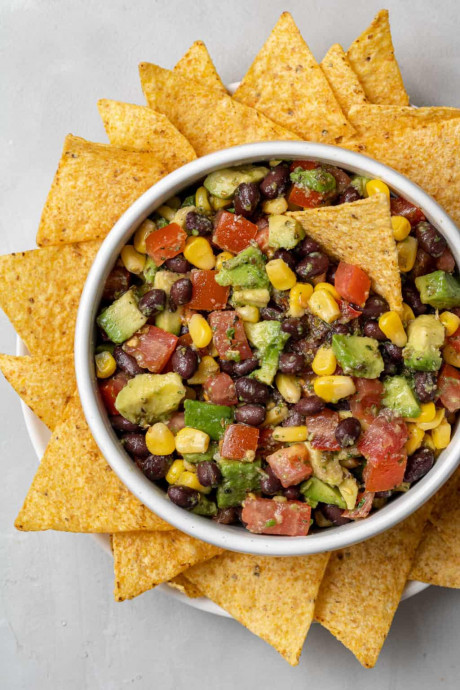 This black bean and avocado salad is awesome served on a bed of greens or as a dip with tortilla chips. This stuff is good. Really, really good. It's similar to "cowboy caviar" or "Texas caviar" but with black beans instead of black-eyed peas. It's easy and inexpensive to make, packed with healthy ingredients, and is so versatile.
So versatile in fact, that as I went through my list of categories to find a place for this recipe, I found it fitting in so many categories: Appetizer, lunch, main dish, salad, side dish, vegetarian, and snack. Yup, perfect for all of those categories. May I add, late night snack? Or, perfect with a cold beer?
Ways To Eat It: Top a bed of lettuce with a couple scoops for a stunning and easy salad. Skip the lettuce and serve it as is, for a side dish. Slice a grilled tequila lime chicken breast and add it to the salad for a main dish. Or simply garnish the chicken with a couple spoonfuls of the salad. Eat this Southwestern style dip on a crispy, salty tortilla chip. Add it to cooked quinoa or rice to make a delicious grain bowl. Add nutrition and flavor to a cheese quesadilla, taco, or nachos with a garnish of this dip. Eat it straight out of a bowl with a fork.
Ingredients:
1 can (15 oz.) black beans, rinsed and drained
1 can (15.25 oz.) corn, drained (fiesta is fun, but not mandatory)
4-5 Roma tomatoes, diced
4 avocados, diced
1 package (0.7 oz.) dried Italian dressing mix (found in dressing aisle at grocery store)
1/4 cup white vinegar
1/4 cup canola or vegetable oil
Lettuce or chips, for serving