Easy One-Pan Chicken Burrito Bowls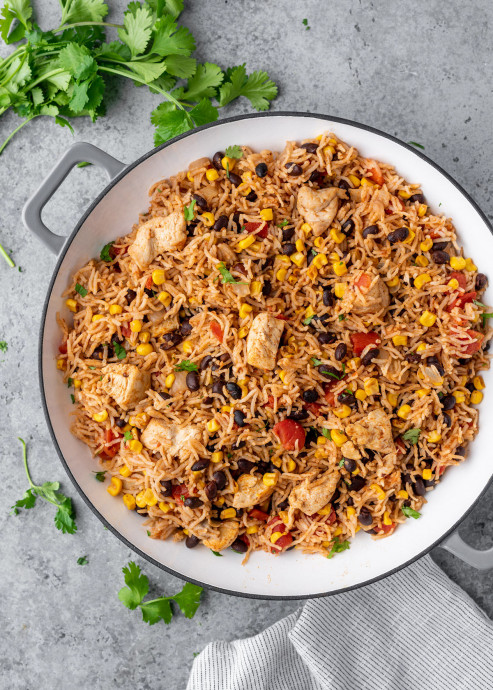 Chicken Burrito Bowls loaded with rice, chicken, black beans, corn, salsa, and spices all made in one pan in under 30 minutes! This one pot chicken burrito is just amazing. It's delicious, cooks fast and cleanup is a breeze! It's perfect as a weeknight meal We've had this recipe on our dinner routine for a few months now because of how delicious and easy it is to make.
Simply cook down the chicken, onion, and garlic until lightly browned then go in with the black beans, corn, tomatoes, green chiles, salsa, jasmine rice, and seasoning.
Top off with the chicken stock and simmer until the recipe is soft and fluffy. That's pretty much it! Serve with avocado, sour cream, salsa, shredded lettuce, or toppings of choice!
Ingredients:
1 pound chicken breasts cubed into 1 inch pieces
1/2 cup diced onion
1 Tablespoon olive oil
1 15 oz can black beans rinsed and drained
1 15 oz can corn drained
1 14.5 oz can diced tomatoes
1 4 oz can diced green chiles
1/4 cup Chunky Salsa
1 cup jasmine or Basmati rice I used Basmati
2 Tablespoons
1 teaspoon
1/2 teaspoon
1/2 teaspoon salt
1/2 teaspoon pepper
2 cups chicken stock or water
1 cup shredded cheddar/jack cheese
Optional toppings:
Avocado, tomato, Sour cream, cilantro