Churro Layer Cake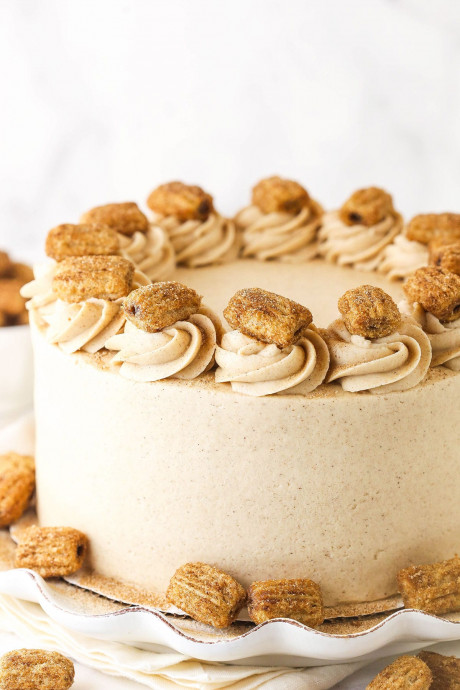 This Churro Layer Cake has tender, moist layers of cinnamon cake all covered with a creamy cinnamon buttercream! It's full of flavor and totally addicting! Cinnamon is one of my favorite ingredients and flavors. It makes everything better. And for me, churros are all about the cinnamon. A delicious, warm churro covered in cinnamon? Sign me up!
So a Churro Cake has natural appeal. Give me all the cinnamon and sugar! It's in the cake and the frosting, so you get plenty of cinnamon in every bite.
I actually spent a lot of time thinking about this cake before making it. I love adding fillings and textures to cakes when it makes sense and this seemed like a fun cake to try to add something interesting to texture wise. Since churros are kind of pastry/doughnut-like, I thought adding something that would give the filling texture like that might be fun. Sadly though, something like that ends up soaking up moisture and just being kind of doughy and strange. I tried taking the churros you see on this cake and grinding them up to do something with them, but they are actually filled with some chocolate, so that wasn't quite right. And then I made a crumble and that just tasted like cookies.
Ingredients
Cinnamon Cake
2 1/2 cups (325g) all purpose flour
2 1/2 tsp baking powder
1 tbsp ground cinnamon
1/2 tsp salt
3/4 cup (168g) unsalted Challenge Butter, room temperature
1/4 cup vegetable oil
1 1/2 cups (310g) sugar
1 tbsp vanilla extract
4 large eggs
1 1/4 cups (300ml) milk
Cinnamon Buttercream
2 1/2 cups (560g) unsalted Challenge Butter, room temperature
10 cups (1150g) powdered sugar
2 1/2 tsp vanilla extract
2 1/2 tsp ground cinnamon
8 tbsp (60-75ml) water or cream
1/4 tsp salt
Churros, for decorating