Old Fashioned Easy Apple Crisp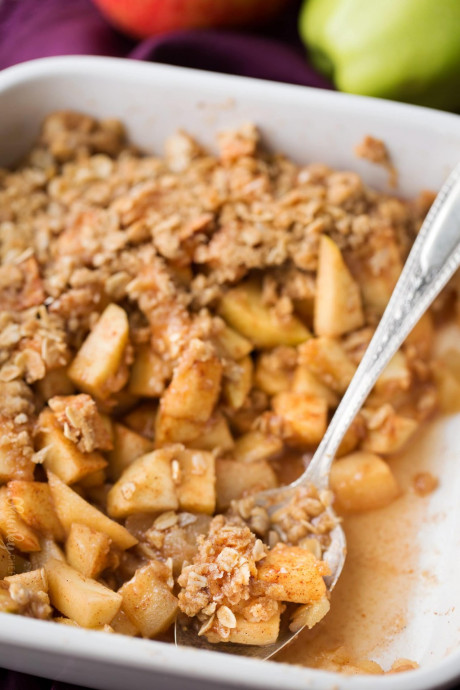 This easy apple crisp is made the old fashioned way like Grandma used to make, and is perfect with a scoop of vanilla ice cream and salted caramel sauce!
A true classic Fall dessert, this easy apple crisp recipe is reminiscent of generations past. Pop this apple crisp in the oven and wait for the delicious smell to waft through your house!
What apples do I use for this easy apple crisp?
Simply put, you can use any apples that you like! My personal favorite for this recipe is the golden delicious variety, but Granny Smith or Fugi are some other great varieties.
To peel, or not to peel? It's 100% up to you! I've made this recipe both ways, and I like them both equally. Generally, when I make this easy apple crisp, I'm making it for my family, and my kids wouldn't eat it with the skins on, so I peel them more often than not. I'm sure this goes without saying, but if you choose to leave the skins on, be sure to wash the apples thoroughly!
Ingredients:
6 golden delicious apples, peeled and chopped (other varieties can be used, can also be sliced)
2 Tbsp granulated sugar
1 3/4 tsp ground cinnamon, divided
1 1/2 tsp lemon juice
1 cup light brown sugar
3/4 cup old fashioned oats
3/4 cup all-purpose flour
1/2 cup cold unsalted butter, diced into small cubes
pinch of kosher salt