Cinnamon Walnut Pear Crisp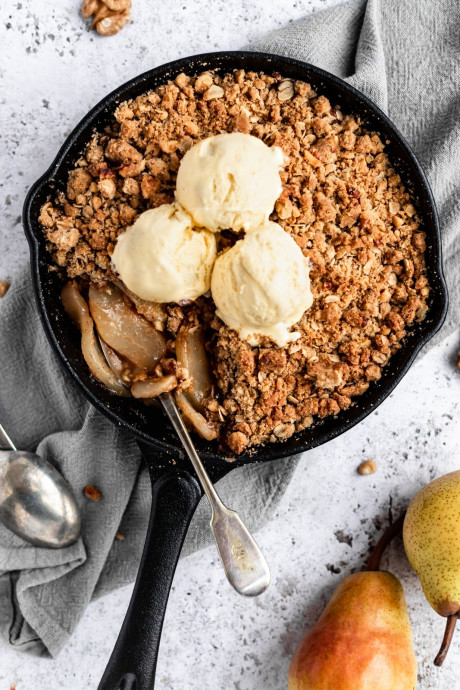 Incredible cinnamon walnut pear crisp made with simple ingredients and topped with a delicious oat walnut crumble. This easy pear crisp recipe tastes just like old fashioned pear crisp and can easily be made vegan and gluten free for a wonderful dessert you'll make again and again! Pears! Such an underrated fruit that deserves more love, don't you think? I only have a few pear recipes on the blog, but eagerly wanted to add another one before winter pear season comes and goes.
Since I love my healthy apple crisp recipe so much, I decided to slightly modify it and make this juicy pear crisp recipe infused with cinnamon and studded with heart-healthy walnuts. Yes, there's a wonderful walnut oat crumble on top that's perfectly sweet and toasty and yes, you're going to fall in love.
Did I eat this delicious gluten free pear crisp for breakfast with a scoop of yogurt? Absolutely. It's perfect for sharing (easily made vegan, too!) or sneaking bites straight out of the fridge, so get ready for your newest fall & winter obsession.
Ingredients:
For the topping:
2/3 cup flour (or sub whole wheat flour, gluten free all purpose flour or gluten free oat flour)
1/3 cup packed brown sugar (or sub coconut sugar)
1/2 cup chopped walnuts (or pecans)
1/3 cup oats (gluten free if desired)
1/4 teaspoon cinnamon
1/4 cup butter, melted (or sub vegan butter or coconut oil)
For the crisp:
6 medium Barlett pears, cut into 1/4th inch slices
1/4 cup pure maple syrup
1 teaspoon cinnamon
1 teaspoon vanilla extract
1/2 tablespoon arrowroot or tapioca starch